At a Glance:
Brown Bear Car Wash is a pioneer of providing car wash services to the Northwestern region.
It offers Tunnel Car Washes, Self-Serve Car Washes, Touchless Car Washes, Hand Car Wash, and more products starting at $1. 
The company is known for its quick service and its convenient online and offline transaction processing.
As a car owner, it is a common knowledge that keeping your car clean prolongs its useful life. In addition to longevity, washing it regularly helps in keeping its aesthetics. Brown Bear Car Wash knows the importance of regular car washes and has been one of the pioneers in the industry.
What Is Brown Bear Car Wash?
Brown Bear Car Wash is a company based in Seattle Interbay. It was opened by Victor Odermat in 1957 and is still operating today. Brown Bear has been an advocate for protecting water sources and the life living on it.
Brown Bear Car Wash is dedicated to giving the best services within the northwest community. For more than 60 years, the company has been one of the major car-care providers in the region. Each branch makes sure that its operations don't affect the environment negatively.
How Does Brown Bear Car Wash Work?
To use the services and facilities of the company, the customer needs to avail of the various services available. They can opt for memberships for unlimited or discounted washes or opt for more flexible car wash tickets. After that, just bring your car, and the staff will take care of it.
Brown Bear Car Wash Prices: How Much Does Brown Bear Car Wash Cost?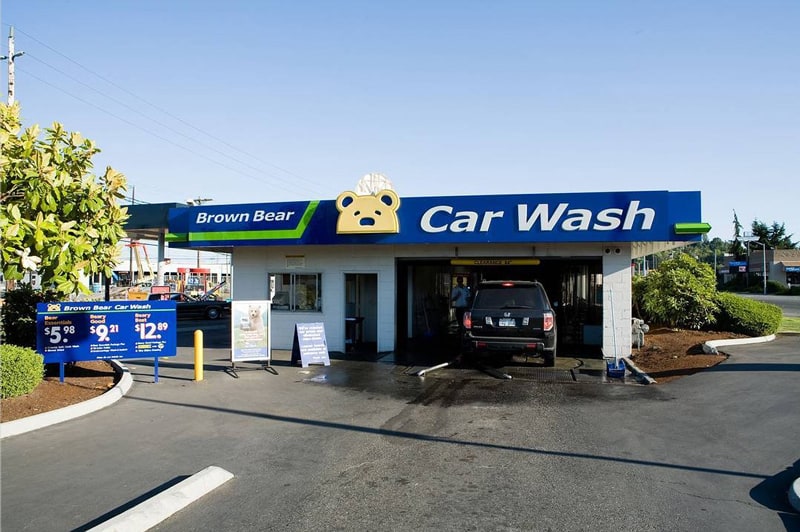 The best carwashing and environmentally-friendly services offered at very affordable prices! Brown Bear car wash and it's more than 40 locations have different packages for different car wash needs. Depending on the service, you can clean your car for as low as $1 to the best cleaning priced at $16.
Prices For Brown Bear Car Wash Services
All of the branches offer three main packages: the Tunnel Car Wash (starts at $10), manual car wash and Self-Serve car wash (starts at $1), and the Touchless car wash (starts at $6). You can choose the best option that suits your time and budget.
Brown Bear Tunnel Car Washes Service & Prices
The Tunnel Car Wash is an automatic car wash offering that uses gentle cleaning detergent and drying options. This package uses similar methods recommended by car manufacturers like BMW, Porsche, and more. You can get this service at a low price of $10.
Beary Best ($16) – The Beary Best package is recommended if you want a fully clean and fully polished car. Includes EnviroPlate, ColorShine, Chass.s Armor, Soft-Cloth Exterior Wash, Spot-Free Rinse And Air-Dry.
Beary Bright ($13) – The Beary Bright package contains all the features and services from Beary Best but without the EnviroPlate coating.
Beary Clean ($10) – Beary Clean is the basic offering from Brown Bear. It doesn't include the trademark services of the company.
Brown Bear Self Serve Car Washes & Prices
Do you only need specific services that don't need whole packages? Or would you want to clean your car with the best Brown Bear facilities in town? The Self-Service option is for you.
All the services, cleaning products, and utilities (towels, glass wipes, vacuums, etc) start at only $1. You can add more cleaning services or just pay for just the services that you'll use.
Self Serve Car Wash Options & Prices:
Doesn't want to wait in line? Get your $1 bills and do the cleaning yourself with Brown Bear Self Serve car washes. Options for self-serve car wash includes:
Pre-Soak (low-pressure washing option) (starts at $1)
Rinse (high-pressure washing option (starts at $1)
Soap (warm high-pressure) (starts at $1)
Conditioner (triple foam) (starts at $1)
Brush (foaming) (starts at $1)
Plate (Enviro) (starts at $1)
Brown Bear Touchless Car Wash Prices
The Brown Bear Touchless car wash is an option that uses high-pressure water output to remove dust, dirt, and mud which baked into the exterior. All of these without worrying about your car's coating, and the possible soap residue. This option is recommended for customers with cars that cannot be accommodated in the conveyorized tunnel. Get this service for a minimum of $6 to up to $12.
Beary Best ($12) – Beary Best is the choice recommended for drivers who like to get the best clean, protection, and polish for their vehicles. With EnviroPlate, ColorShine, undercarriage wash, 2-Step Pre-Soak, High-Pressure Exterior Water, Spot-free rinse and air-dry to finish the whole process.
Beary Bright ($9) – Beary Bright has the same features and services in the packages, except for the EnviroPlate coating feature.
Beary Clean ($6) – For the basic removal of dirt and other particles in the car, Beary Clean is affordable and does the job.
Brown Bear Car Wash Price List For All Services:
The table features the prices for each service offered by Brown Bear Car Wash. You can choose the service of your preference on any Brown Bear Car Wash locations nationwide.
Brown Bear Car Wash Coupons & Discount/Deals
As of the moment, there are no Brown Bear Car Wash coupon codes available.
There is also no printable coupon offerings right by Brown Bear.
Discounts and deals can be availed if you qualify for a program such as the Charity Car Wash Program or Car Dealership Program. Get free services during the Brown Bear Car Wash free car wash day which happens annually.
Does Brown Bear Car Wash Take Cash?
All the Brown Bear services and products can be paid via cash in any of the operating locations. However, cash is also accepted, but for Tunnel Car Wash, Self Service Car Wash (both the Coin Operated Car Wash and DIY Car Wash), and Touchless Car Wash locations only.
Brown Bear Car Wash Package Options & Prices
Need to have a car wash regularly? How about cleaning up multiple cars? Brown Bear has packages that offer unlimited washes, as well as packages for multiple vehicles for businesses and organizations.
Brown Bear Unlimited Car Wash Club & Prices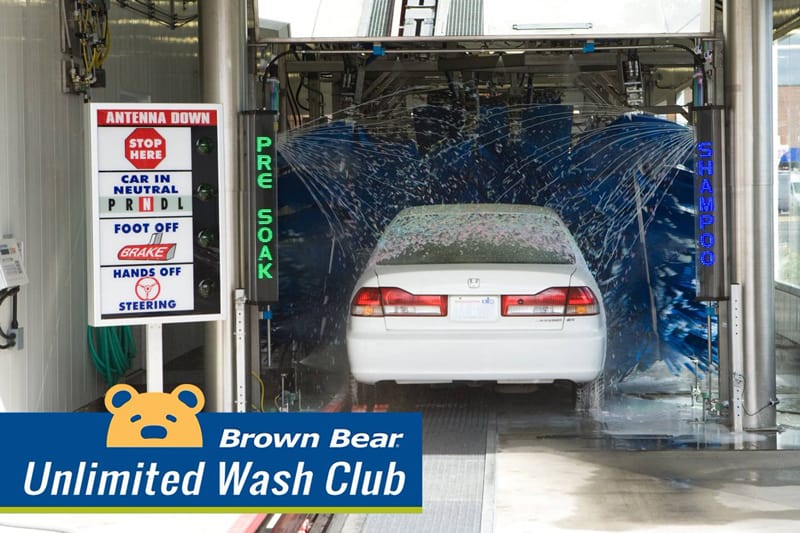 With a Brown Bear Car Wash Unlimited Wash Club membership, you got access to your subscribed package whenever and wherever you need car washing. Like the regular offerings, there are a Best, Bright, and Clean offerings. You can get the basic plan at $24.99 per month ($249.90 for an annual subscription) or the best cleaning services at $44.99 ($449.90 for an annual subscription).
Beary Best ($449.90 annually, $44.99 monthly) – Keep your car protected, polished, and sealed from rust and dirt all year round with the annual Beary Best subscription. Includes EnviroPlate ,ColorShine, Chass.s Armor, Exterior Wash With Special Soft Cloth, and Spot-free rinse with air-drying.
Beary Bright ($349.90 annually, $34.99 monthly) – Beary Bright keeps your car aesthetically pleasing in the eye with its ColorShine feature and Chass.s Armor sealant.
Beary Clean ($249.90 annually, $24.99) – Get the basic Brown Bear car wash cleaning all year round with this annual Beary Clean offerings.
Brown Bear Charity/Fundraiser Car Wash Program & Prices
Are you a charity organization that wants to raise funds? Contact the nearest Brown Bear Charity Car Wash now to avail of its Brown Bear charity program. You can buy Brown Bear Tunnel Car Wash tickets at a discounted price of $1.50 and sell them with a markup. These tickets are suggested to be sold from $10 to $12.
Brown Bear Car Dealership Program & Prices
If you're a dealership owner, you can avail of Brown Bear's Car Dealership program. With this program, you can refer your customers via car wash tickets. These tickets are discounted for dealers to add more value to their services.
Brown Bear Fleet Wash Program & Cost
Need washing for multiple cars each month? The fleet wash program is the most convenient one for your business or organization. Each wash is invoiced once a month, which makes it easier for you to track all your expenses.
Brown Bear Car Wash Price List For All Package Options
There's a perfect Brown Bear Car Wash package for your needs. Here are the prices for each program.
What Is Brown Bear Car Wash Free Car Wash Day?
To thank their loyal customers for continuous support for over 60 years, Brown Bear Car Wash celebrates by giving free services for a day. This happens every August and is called the Annual Customer Appreciation Day. For the chosen day, all the car washes at Tunner Car Wash locations are free from 8 AM to 8 PM.
Order Online: Brown Bear Car Wash Memberships, Tickets, Paw Packs, And Gift Cards Prices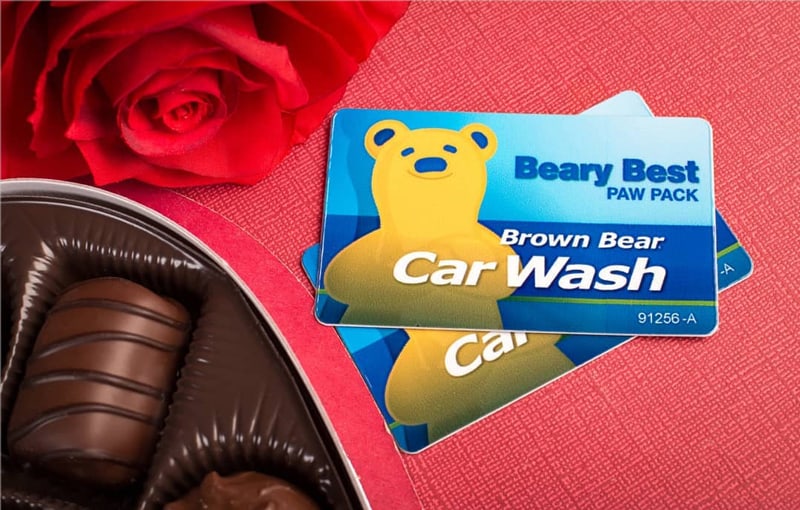 In addition to their regular products and programs, Brown Bear offers more flexible products. Whether you want convenience or savings, or want to gift someone a car wash, there is a perfect product for you.
Product Type And Prices:
From annual memberships, Brown Bear Car Wash gift card, to even paw packs, to even toys like stuff toys, there's an assortment of products for your needs.
Beary CLEAN Annual Wash Club Membership – All the benefits of the Beary Clean package available year-round for $249.90.
Beary BRIGHT Annual Wash Club Membership – Beary Bright services for 12 months for $349.90.
Beary BEST Annual Wash Club Membership – Get the Brown Bear full-service car wash experience for a year at $449.90.
Wash Green® Paw Pack – This pack contains 3 Beary Clean tickets and a Beary Best ticket for $39.05.
50/50 Paw Pack – Get 3 CLEAN and 3 BEST tickets for only $63.58.
Beary Best Paw Pack – Use these 5 BEST car wash tickets at Brown Bear Car Wash tunnel locations for $68.12.
Beary Clean Single Ticket – If you're in a budget, you can get one CLEAN car wash for $9.08.
Beary Best Single Ticket – One full BEST ticket will cost you $14.53 which can be used any time.
Bear Freshener 3-pack – Keep your car smelling great with the 3-pack Bear Freshener for only $0.99.
Beary Clean Ticket Book – The Beary Clean ticket book is good for ten washes. ($81.74)
Beary Best Ticket Book – Get 10 BEST car wash tickets for only $130.79 which you can use any time.
Antenna Ball – The antenna ball is the pencil topper you don't think you need! Get yours for only $0.99.
Stuffed Brown Bear Mini – Get your soft and squishy 6" tall Brown Bear mini for only $7.99.
Bottle of Bubbles – Might as well get this gem to help you get through the traffic, for only $1.99.
Prices List For Brown Bear Car Wash Club Membership, Paw Pack, Ticket & Gift Cards
Here's the summary of the pricings and prices for Brown Bear's other products.
Brown Bear Car Wash Near Me, Hours, Locations & Contact Info
Brown Bear Car Wash has more than 40 locations. Find and contact the nearest Brown bear Car Wash to use their utilities and services.
For more inquiries, you can send mails at 3977 Leary Way NW, or Seattle WA 98107-5041.
For general inquiry, you can call 206.789.3700.
You can call for any unlimited wash club concerns at 206.774.3737.
For charity program questions, dial 206.774.3742.
Get details for the car dealership program by calling 206.774.3740.
All numbers are open from Monday to Friday, from 8 AM to 4 PM, which is the Brown Bear Car Wash hours of operation.
Here you can check the opening hours and contact information of Brown Bear Car Wash near you.
How To Cancel Brown Bear Car Wash Membership?
You can cancel your Brown Bear Car Wash membership through your Brown Bear Digital account (under Wash Club Memberships) online or call Brown Bear at 206-774-3737 to cancel by phone.
You can also send Brown Bear an email "Regarding Unlimited Wash Club" to cancel your membership.
Brown Bear Car Wash Reviews
What makes Brown Bear Car wash an established car wash service provider is its quick services and facilities. Even long lines are easy to clear up during sunny days. Setting an appointment is easy, and the staff is helpful. When in a touchless car wash or self-service facilities, the top-notch equipment is easy to operate and is effective in what it does.
Final Thoughts
If you're in Seattle or nearby, you can always count on Brown Bear to make your car clean and shiny. There are also other wash providers like Delta Sonic Car Wash, Mister Car Wash, Autobell Car Wash, Car Spa, Quick Quack Car Wash, Zips Car Wash, Hoffman Car Wash, Moo Moo Car Wash, Mike's Carwash, Shell Car Wash, Sheetz Car Wash, Goo Goo Car Wash, and The Wash Tub if Brown Bear is not available in your area. Enjoy the quick and affordable offerings only at Brown Bear.
---
FAQs:
Common Questions for Unlimited Memberships

Unlimited memberships (monthly and annual) are automatically charged by the company. The subscription is transferrable, but only one car can be subscribed per person. Replacements for the tag and the card are available at Brown Bear locations. You can cancel your Brown Bear subscription by visiting any branch and request for service cancellation. Cash and cards are accepted.
Trucks and convertibles are also accommodated. For trucks, the maximum height is 84" on Tunnel Car Wash. Vehicles with Roof-mounted racks might have to be checked before a tunnel car wash. Convertibles should have their roof latched properly.
Does Brown Bear Car Wash Have Vacuums? Are Car Wash Vacuums Free?
The company offers a car vacuum for its services. To use it, you need to drop cash on the vacuum to start working on your car. Car vacuums can be used with no car wash required. A separate vacuum station can be found on some branches.
Why Choose Brown Bear Car Wash?
Brown Bear Car Wash uses rags that don't harm your car's exterior design and appearance. It also makes sure that the operations don't harm the environment by using a detergent specifically formulated for the region.
How To Apply for A Job From Brown Bear Car Wash?
Brown Bear car wash is always looking for customer service representatives and other positions. You can head on to this page and search for the job you want to apply. As if now, Brown Bear car wash jobs are mostly looking for customer service alternatives for Renton, Bellevue, Federal Way, Seattle, and Des Moines.
Please follow and like us: