At a Glance:
Hoffman Car Wash is a provider of the automatic car wash, manual car wash, touchless car wash, full-service car wash, and DIY Car Wash.
You can have your car cleaned with touch-free drying for a month with their unlimited plan starting at $29.99.
Customers like the fast and efficient service, as well as the very polite and transparent wash staff of the company.
Keeping your car clean and shiny is not only aesthetically pleasing and satisfying. Regular car cleaning and maintenance can keep your car running longer than its useful life. If you want a cheap, clean, and fast car wash service, Hoffman Car Wash is one of your best options in Capital District, Vestal, or Binghamton.
What Is Hoffman Car Wash?
Hoffman Car Wash is a family business created in 1965 by the Hoffman family. It first opened its self-service car wash in Colonie, and since then the company has been expanding its operations. Last 2018, Hoffman Car Wash opened a location at Binghamton. 
Who Owns Hoffman Car Wash?
As of now, the owner of Hoffman Car Wash is Tom Hoffman Jr. He is also involved in other automobile businesses like Hoffman Development Corporation, J.D. Byrider, and innovateIT Car Wash Equipment. 
Hoffman Car Wash Services & Detailing
The car wash provider has different kinds of products and services for the different needs of the customers. Whether you're in the mood for a deep clean or just a quick car wash, there's a Hoffman Car Wash product for you. 
Hoffman Car Wash Unlimited Club – Get your car exterior and tires clean and shiny every day of the month with Hoffman Car Wash Unlimited Club starting $29.99.  
Hoffman Car Wash Customer Service – The staff of any Hoffman branch will be happy to answer your questions and inquiries. For convenience, you can submit your question here. 
Hoffman Car Wash Interior Detailing – This service includes carpet cleaning, two-step surface cleaning, seat cleaning, tire shine, and full-service car wash for only $189.99.
Hoffman Touchless Car Wash – For customers who like to get more bang for their bucks, you can get a touch-free wash and dry for $8. 
Hoffman Mint Car Wash Token – The company doesn't have tokens. Instead, they have touchless car wash cards with no expiration dates.
Hoffman Car Wash Prices: How Much Does Hoffman Car Wash Cost?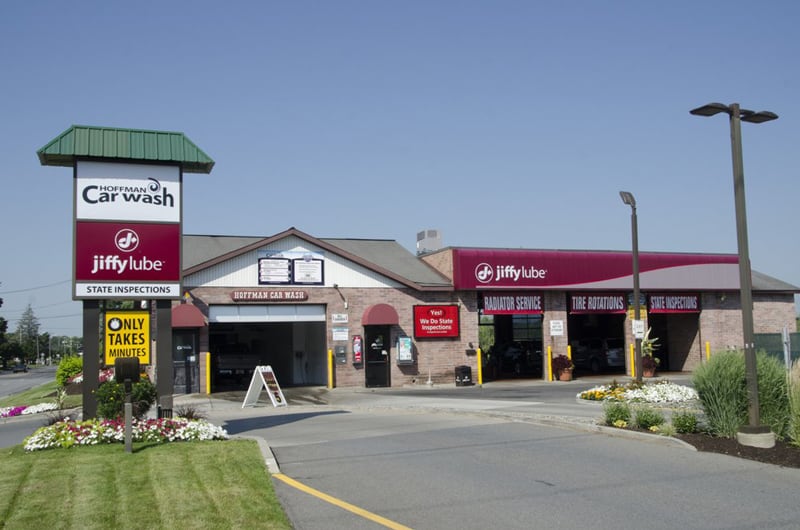 Whether you're looking for a one-time urgent car wash, or you want a shiny car every day, there's a great Hoffman car wash product for you. We took all the Hoffman price information and presented them on tables for reading convenience. 
How Much Does A Car Wash Cost At Hoffman? 
Hoffman's best wash is the Ultimate Exterior with Interior Cleaning & Tire Shine. One wash for this plan on retail comes at $40 and is packed with all the services that Hoffman offers. For a basic full-service wash, the price starts at $29. Exterior-only washes start at $12 while touch-free car wash services with Express starts at $8. And lastly, you can start the self-service car wash express for as low as $1. 
Hoffman Car Wash Unlimited Plan Prices
There are five membership options for the unlimited club. For as low as $29.99 a month, you can get the basic services, which are soft-touch wash and touch-free drying. The Ultimate Full Serve option is worth $63.99 and includes additional features like undercarriage wash, polishing and protectant, dashboard and windows cleaning, as well as hot carnauba wax. Unlimited plans are renewed monthly. There is also Hoffman 90 Day Unlimited car wash passes sold on a few occasions. 
Prices For All Hoffman Car Wash Customer Services: 
Besides the unlimited club, you can purchase Hoffman Car Wash products at retail prices. This is perfect for people who don't need unlimited car washes and want to minimize their expenses. 
Hoffman Car Wash Hand Wax Prices – This service is available with the Ultimate full-service. A single car wash costs $35, but you can get a discounted $60 for two when you opt for a wash card. 
Hoffman Car Wash Detailing Prices – Features like Nanoskin Surface Cleaner, Tire Shine, and a two-step Surface cleaning is included in Hoffman's complete detailing at $269.99. 
Exterior Car Wash Services Prices – For exterior washes, the best offer is the Ultimate Exterior (includes tire shine and hot wax) for $21.
full-service ("Inside & Out" Car Wash Services) Prices – Get the best Hoffman Car Wash cleaning experience for $40 per wash. 
Touch Free Car Wash Services Prices – For a quick and affordable wash, the Hoffman Express Ultimate is one of the greatest choices.
Prices List For All Hoffman Services:
Looking for a comprehensive list of Hoffman Car Wash prices? We got all the prices covered, all you have to do is to find the services you're looking for. For your convenience, we also included the Jibby Lube Service Menu on this list.
Hoffman Unlimited Car Wash Club Price List
Join the Hoffman Unlimited Car Wash club and have your car look shiny and clean every day. Prices start at $29.99 only, with full-services at $63.99.
Jiffy Lube Services Prices: 
The Hoffmans added their Jiffy Lube services with every Hoffman Car Wash to bring convenience to their customers. Here are the Jiffy Luber services that you can also access in the Hoffman location near you. 
Oil Services – High mileage, synthetic 1, and Mobil 1 oil services are available. You can also opt for a signature service for only $46.99. Each oil change service has a free Hoffman Car Wash too. 
Ancillary Services – There are several ancillary services offered in the site, including air filters, tire rotation, antifreeze exchange, and more. 
Automatic Transmission Service – A fluid exchange service is also available for $159.99. 
Fuel System Services – Need some fuel injection cleaning or fuel filter replacement? Visit the nearest Hoffman Car wash for their fuel system services. 
Gear Boxes – Hoffman offers front differential, rear differential, and transfer case gearboxes, all for $99.99.
NY State Inspection – The NY State Safety and emission inspections are available.
Free Hoffman Car Wash
Besides getting a free car wash via Oil Change, there are other ways to get your car cleaned free of charge. If you're a Times Union member with Gold, Silver, or Bronze membership, you get a free Ultimate Exterior with Tire Shine car wash. Fill up the form on this page to avail of this offer.  A barcode will be sent to you after a day or two. Customers can also join the Hoffman Car Wash Club newsletter for a free hot wax. 
Does Hoffman Car Wash Take Credit Cards?
The company is accepting credit cards as a payment option. If you opt for an unlimited car wash plan, your credit card will be automatically charged each month. The plan activation is when the card is charged. So if your plan is activated at the end of the month, your billings will also be given at the end of the month. 
Hoffman Car Wash Coupons & Promotion Code
Competition is harsh, you need to promote your services in New York to get some customers. Hoffman car wash is aware of these advantages, that's why they offer some Hoffman car wash promo code both for their car wash and Jiffy Lube services. 
Hoffman Car Wash Free Coupon
Unfortunately, there is no Hoffman Car Wash coupon available as of the moment. However, you can get discounts when you buy car wash cards. For example, three separate Works package will cost $36. But if you buy a car wash card for it, the price would only be $27. 
Hoffman Car Wash Detailing Coupons
For detailing coupons, Hoffman Car Wash partnered with Uber to bring great detailing offers to its drivers. You can get up to a 15% discount on Express Detail Services if you present the app at any Hoffman locations. And last but not the least, Uber drivers can also get additional Jiffy Lube coupons. Head over this website to find out what coupons are available. 
Coupons NY
All of the Hoffman Car Wash coupons are redeemable on any participating New York locations. Take note that store pricing might vary, so the final price still varies from location to location. 
Kingston NY Coupons
Kingston, along with other participating locations, is offering a $30 off on their Signature Service Oil Change with an added free Hoffman Exterior car wash. You can use the code "20PPC20" to get the discount. 
Jiffy Lube Coupons
You can save $20 on your next oil change with the Jiffy Lube coupon for winter savings. Check out this page to know what locations are participating in this promotion. In addition, each Signature Service oil change can be discounted for up to $15 off when presenting the coupon found here. 
Hoffman Car Wash vs. Other Car Washes Prices
If there are no Hoffman Car Wash locations available near you, you can check out great other car wash services below. The prices for Mister Car Wash, Autobell Car Wash, Brown Bear Car Wash, Delta Sonic Car Wash, Quick Quack Car Wash, Moo Moo Car Wash, Zips Car Wash, Mike's Carwash, Crew Carwash, and Goo Goo Car Wash are for their monthly unlimited wash club prices.
Final Thoughts
Hoffman car wash strives to be the best car wash service provider for its customers in the areas it operates. Some reviewers recommend tipping the staff because the car wash employees remember it and hook you up. Visit the car wash today and experience their services first-hand.
---
FAQs:
Hoffman Car Wash Hours Of Operation Near Me Locations & Corporate Office
There is no such thing as invisible establishments today, especially in the age of the Internet where fast information transfer is expected. Just searching "Hoffman Car Wash Near Me" would give you the location and phone number of an establishment. Take note that as of the moment, Hoffman is only operating on locations such as Colonie, Latham, Schenectady, East Greenbush, Wynantskill, Kingson, Albany, Clifton Park, Binghamton, and other locations listed below.
What Time Does Hoffman Car Wash Open?
Within the weekdays, the car wash typically operates from 8 AM to 8 PM. On Sundays, they are open from 8 AM to 6 PM. Check out their customer service channels for more information on availability during holidays.
Hoffman Car Wash Corporate Office:
You can visit the car wash corporate office at 1757 Central Avenue, Albany, NY 12205. Alternatively, you can check their official website to find out the best location for you. 
Send your written inquiries or call the customer service using this contact information: 
Phone: (518) 862-1658
Fax: (518) 869-3574
Toll-Free: (877) 446-3362
How Do I Cancel My Hoffman Car Wash?
Customers with the unlimited club can cancel their subscription at any time that is convenient for them. However, to cancel the monthly pre-authorized charge, the member should initiate the Hoffman car wash cancel before their next payment. You can initiate plan cancellation by going directly to any Hoffman location, or by submitting your information and inquiry to this form. 
Hoffman Car Wash Jobs / Careers Application:
Hoffman is always searching for people who would like to gain job experience. You can receive benefits such as scholarships and health care package by joining the Hoffman team. Positions available are often for car washing, Jiffy Lube positions, Byrider, facilities, and administrative. 
Take note: as of the time of writing, due to the current medical crisis, Hoffman is not accepting new applications for both Hoffman Car Wash and Hoffman Jiffy Lube locations. 
How Much Does Hoffman Pay An Hour? 
According to reports from Indeed, the average salary per hour is $11.49 for a car wash attendant. For people working as lube and automotive technicians, the pay per hour is $14.13 and $13.84 per hour respectively. 
What Age Does Hoffman Hire? 
As per the state's requirement, you must be at least 16 years old to work at Hoffman Car Wash, as well as its JIffy Lube locations. For applicants under 18 years old, a working permit might be required, which can be acquired via the school. 
Hoffman Car Wash Fundraising: 
Hoffman Car Wash also offers a fundraising program for non-profit organizations like schools and churches. With the fundraising program, non-profit organizations can raise money quickly by selling car wash tickets. You don't have to do the paperwork to raise money. To start fundraising, contact the nearest Hoffman location near you. 
Hoffman Car Wash Reviews: Is Hoffman Car Wash Good?
One of the best features of Hoffman Car Wash is its thorough cleaning. Even the most persistent stains like bug splatters, road dust, and rain streaks are cleaned. Self-service is also a great experience, as you can wash your car without worrying about running out of coins or bills for the Coin Operated Car Wash (only if you use a credit card to pay instead). In addition, there is a free vacuum on each Hoffman car wash offered. 
Please follow and like us: