At a Glance:
Mega Car Wash offers a wide range of services from full-service wash to express washes and auto detailing services with unlimited plans and memberships.
At Mega Car Wash, you are guaranteed 100% satisfaction with their price and service.
They open from Mondays to Saturdays from 8 AM to 6 PM and Sundays from 9 AM to 5 PM.
Introduction of Mega Car Wash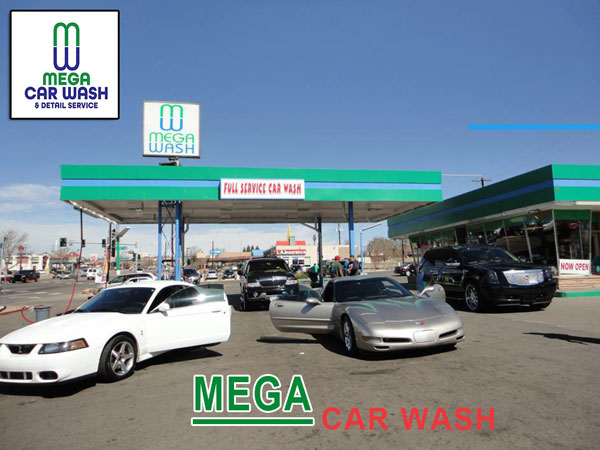 Opening 2 branches located in Denver and Aurora, Mega Car Wash started operations way back in April 2009 with the experience and expertise to meet your vehicle's needs. Here at Mega Car Wash, staff will ensure that customers leave satisfied and happy.
Mega Car Wash Prices
How Much Is a Car Wash at Mega Car Wash?
Mega Car Wash full-service wash prices differ depending on the package chosen but expect to at least spend $21 for their cheapest option. However, you may opt for their Express Wash services which can go as low as $10. Unlimited monthly subscriptions are also available for limitless access with prices ranging from $59.99 – 69.99.
Prices for All Mega Car Wash Services Packages & Details
Mega Car Wash Package Price
Mega Car Wash Full-service Car Wash single-use prices are listed down below.
Mega Wash ($21-$25)
Mega Works ($27-$30)
Mega Ultimate ($32-$36)
Mega Special ($40-$46)
Mega Supreme ($50-$56)
Auto Detailing Package Price
Mega Car Wash offers detailing services ranging from exterior and interior detailing to complete detailing. Take note as pricing varies depending on vehicle size and location.
Exterior Only ($190)
Interior Only ($190)
Exterior and Interior ($290)
For extra services such as hand wax and wash, carpet, seats and headliner shampoo, interior vinyl clean and conditioner and engine clean, each add-on costs $95 while headlight restoration and leather seats clean and conditioner cost $120.
RZR Car Wash Package Price
Mega Works ($52-$55)
Mega Ultimate ($57-$60)
Mega Special ($65-$70)
Mega Supreme ($75-$80)
RZR Detail ($99 and up)
Unlimited Monthly Memberships Price
Mega Car Wash offers monthly unlimited wash services from washing and drying, wiping door jambs, vacuuming, window cleaning, console and dashboard wiping, and cleaning and shining of wheels and tires respectively. Small SUVs/sedans cost $59.99 while large SUVs/trucks cost $69.99.
Mega Car Wash Prices List
Check out Mega Car Wash's updated price list for the services they offer. They are displayed in the table down below.
Mega Car Wash Prices List

Price: (Single Full-Service)
Prices Compared to Other Car Wash Brands
Price-wise, Mega Car Wash's full-service wash is slightly more expensive as compared to its competitors. However, it won't break the bank as they guarantee customer satisfaction due to their excellent service and 24/7 availability.
Mega Car Wash Prices vs. Other Brands
Mega Car Wash Coupons and Gift Cards: How to Reduce Cost?
As of writing, there is only an early bird discount of $5 off on any full-service car wash available every Monday to Thursday from 8 AM to 10 AM, but they give away $5-$10 off for any full-service car wash, and take one service respectively last year. But don't worry as the company offers Mega Car Wash gift cards available at Giftly or GiftRocket to give to your friends and loved ones. Have them delivered through the mail, email, or printout in a customized greeting card.
How to Pay for Mega Car Wash?
Customers can pay via cash or credit card at the facility.
Mega Car Wash Hours & Location Near Me: How to Contact?
For more queries, contact them by phone and email at [email protected] from Mondays to Fridays from 8 AM to 6 PM and Sundays from 9 AM to 5 PM or visit them at their branches.
Mega Car Wash Denver
720-327-5170
7170 Pecos St., Denver, Colorado
Mega Car Wash Aurora
720-466-0226
15201 E Smoky Hill Rd., Aurora
How to Cancel Mega Car Wash Membership?
There are no available refund options for cancellation stated but customers may dial their customer service line or visit the nearest branch.
Mega Car Wash Reviews: Is it Worth It?
According to Yelp, numerous customer reviews state that they have effective and efficient wash packages, excellent service, and ease of access all for an affordable price that gives their vehicles the best clean they need.
Final Thoughts
With their wide range of services, Mega Car Wash is undoubtedly one of the best car wash options for an affordable price which makes it worth visiting. For whatever service you need, spot-free washes and great auto detailing are guaranteed.
Please follow and like us: