At a Glance:
Sparkle Car Wash offers a variety of full-service and express car wash packages, as well as memberships.
For different washes, the company offers three pricing tiers: full-service, express, and unlimited packages.
Their vehicle wash services are accessible in both Stroudsburg and Easton, and are normally open from 7 a.m. to 8 p.m. Monday through Friday.
Introduction of Sparkle Car Wash
Sparkle Car Wash is a professional car wash service located in two locations of Pennsylvania – Stroudsburg and Easton. It was originally opened as a full-serve car wash in 1981 by owner and president, Kevin Detrick alongside a business partner and his mother. Today, it offers three different wash options: self-serve, flex-serve, and express exterior, and operates 7 days a week from 7 a.m. to 8 p.m. to provide great service among its loyal clients.
Sparkle Car Wash Prices
How Much Is a Car Wash at Sparkle Car Wash?
A regular classic car wash at Sparkle Car Wash costs $9.43. Other car wash options with additional services are higher, ranging from $12 to $15.
Prices for All Sparkle Car Wash Services Packages & Details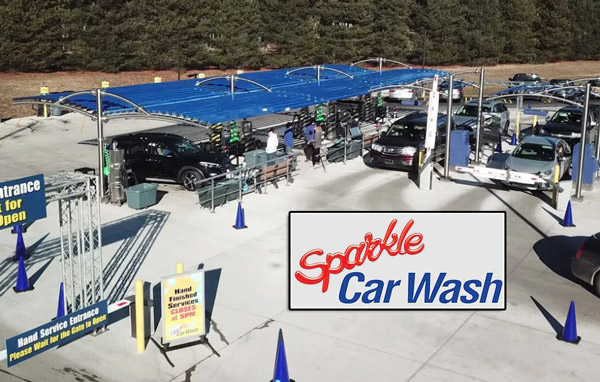 Sparkle Car Wash has 3 Express Car Wash Packages:
Liquid Sparkle which includes a Deep Cleaning Soap Bath, Ceramic Protectant, and a Total Protection Wash costs $15.09;
Total Protection which includes Underbody Wash, and Rust Inhibitor Conditioner costs $12.26;
and the Classic Car Wash which includes an Exterior Wash, Wheel Blast, Bug Defense, and Spot Free Rinse costs $9.43.
In addition to these, they also provide available upgrades that cost from $1.89 to $3.77, unlimited wash club memberships, and fleet membership programs.
Sparkle Car Wash Prices List
Deep Cleaning Soap Bath, Ceramic Protectant, Total Protection Wash

Underbody Wash, Rust Inhibitor, Conditioner, Protectant

Exterior Wash, Wheel Blast, Bug Defense, Spot Free Rinse

Clear Coat Conditioner & Protectant

Underbody Wash and Rust Inhibitor
Sparkle Car Wash Prices Compared to other Car Wash Brands
Compared with other car wash brands like Jackson Car Wash, Soapy Joe's Car Wash and Caliber Car Wash that all charge up to $25, Sparkle Car Wash is in the average price range with a maximum rate of $15.
Sparkle Car Wash Coupons: Are There Ways to Reduce Cost?
If you are a regular customer of Sparkle Car Wash and you want to reduce the costs, you can avail of their coupons on their website and also through their official Facebook and Instagram page.
How to Pay for Sparkle Car Wash?
Payments for Sparkle Car Wash services are available via cash or online. Sparkle Car Wash now features a contactless transaction using their mobile app which is available on both Apple and Android phones. When you download the app for free, you can receive a 10% discount on any individual wash or wash book purchase.
Sparkle Car Wash Hours, Phone Number & Near Me Location: How to Contact?
Sparkle Car Wash operates in two locations mainly in Easton and Stroudsburg.
In Easton, you can visit them at 3808 Easton-Nazareth Hwy, Easton, PA 18045. The Tunnel Wash service is open daily from 7 a.m. to 8 p.m. You can also call them at (484) 626-1513.
In Stroudsburg, you can visit them at 1070 Congdon Ave, Stroudsburg, PA 18360. The Tunnel Wash is open daily from 7 a.m. to 8 p.m. while Hand Finished Services is open from 8 a.m. to 5 p.m. and Self-Serve is open from 7 a.m. to 10 p.m. For information, their telephone number is (570) 424-9687.
You can also contact them via e-mail at Contact Sparkle Car Wash in Stroudsburg PA & Easton PA for more details.
How to Cancel Sparkle Car Wash Membership?
You can cancel or put on hold your Sparkle Car Wash Membership by contacting their attendants via call or email or simply by visiting the branch. Furthermore, the program automatically cancels memberships that have not been used for 60 days. This is a courtesy to those who may have neglected to suspend their subscriptions due to travel or migration.
Sparkle Car Wash Reviews: Is It Worth It?
If you are regularly availing of car wash services, Sparkle Car Wash may be worth your every penny. Their services are cheap compared with other car wash brands. They also have several promos, discounts, and vouchers whenever there are special occasions, which you can avail easily through their websites.
Final Thoughts
Sparkle Car Wash is professional in terms of their services. It may not be the cheapest one in town but they ensure that every client gets what they've paid for. The locations are perfect and the payment transactions are convenient. Their discounts are also great, especially for loyal customers.
Please follow and like us: