At a Glance:
Jet Brite Car Wash operates 11 locations in Chicago and is known for its automated exterior car washes.
The car wash maintains extensive operating hours for customer convenience, opening its doors seven days a week from 7 am to 9 pm.
The company also provides a JetPass™, allowing customers to use unlimited washes without cards, mobile apps, and stickers. 
JetBrite Car Wash is a renowned car wash chain based in Addison, IL, with multiple locations in Chicago and its western suburbs. Established over two decades ago, the company has made a name for itself with its innovative automated tunnel system.
Introduction to Jet Brite Car Wash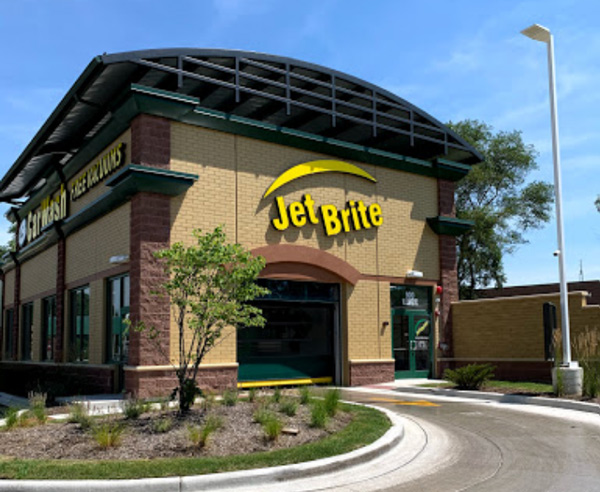 Jet Brite Car Wash is a car wash chain established in 2000, with its first location in Addison, IL. Over the last 22 years, it has expanded into 11 locations, serving customers in Chicago and several western suburbs. It is open seven days a week, from 7 am to 9 pm.
The car wash chain is known for its unique tunnel design featuring impressive brushed stainless-steel arches and reliable, easy-to-maintain long-lasting equipment. It was acquired by ZIPS car wash, along with Rocket Express.
One of the unique gimmicks that Jet Brite Car Wash uses to differentiate itself is the JetPass. There's no need for windshield stickers, unique cards, or mobile apps. Your license plate serves as your JetPass, allowing automatic gate access.
Jet Brite Car Wash Prices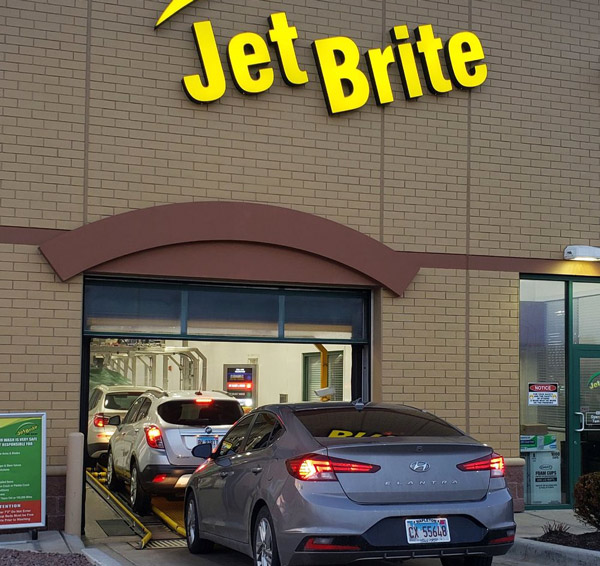 Jet Brite Car Wash, known for its affordability, specializes in exterior car wash services through an efficient automated tunnel system. They cater to customers by offering a JetPass™ for unlimited washes and car wash gift cards.
How Much Is a Car Wash at Jet Brite?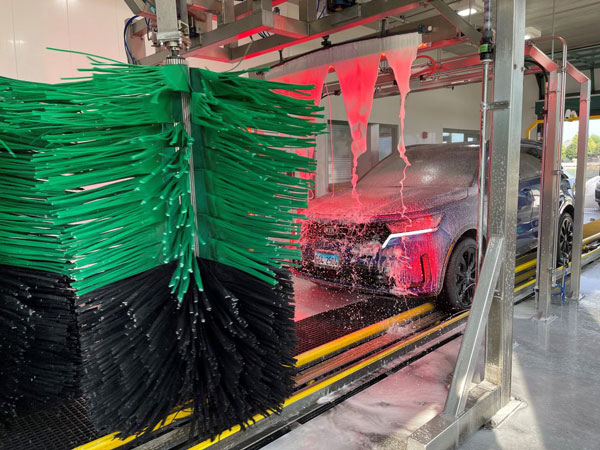 Jet Brite Car Wash has five different plans available, ensuring a car wash option for every budget. They offer wash packages for as low as $3 for a single wash and $10 for monthly unlimited plans.
While interior cleaning services are not provided, there are complimentary self-service vacuums and carpet mat cleaners accessible with any wash. Additionally, a selection of cleaning supplies is available for purchase in the vending room.
All Jet Brite Car Wash Packages, Services & Detailing Prices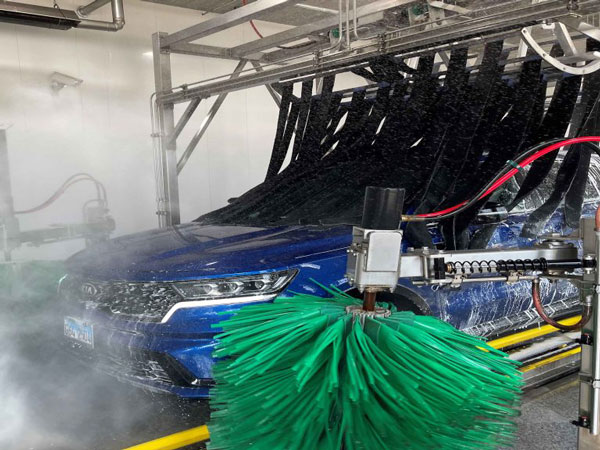 Jet Brite offers four wash packages, all with free self-serve vacuums available. All of the company offerings are exterior-only washes.
Light Wash ($3)
Jet Blast Wash ($15)
Jet Blast & Shine ($20)
Ceramic Ultra Finish ($30)
Car Wash features:
Underbody Blast
Tire Shine
Rim Cleaner
Ceramic Shield
Carnauba Jet Wax
Under Body Wash
Clear View
Lava Shield
Jet Brite Car Wash also offers a Rideshare/Taxi/Livery/Commercial Plan for commercial customers This plan includes a Rim Cleaner & Rim Blast, Jet High-Pressure Body Blast, and access to free vacuums for $25 monthly.
Jet Brite Car Wash Prices List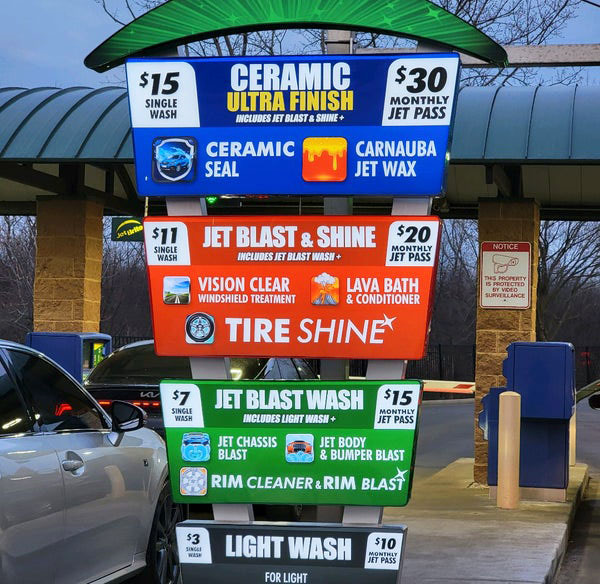 Here is the pricing information for Brookhaven Car Wash services, which provides a range of car care options to accommodate different needs and budgets.
Jet Brite Car Wash Prices List ( Exterior Washes )

Light cleaning + Free Vacuums

Rim Cleaner & Rim Blast, Jet Body & Bumper Blast,
Jet Underbody Blast + Free Vacuums

Tire Shine, Rim Cleaner & Rim Blast,
Jet Underbody Blast, Jet Blast Power Wash
Jet Body & Bumper Blast, Lava Blast Cleaner,
Vision Clear Windshield Treatment + Free Vacuums

Ceramic Ultra Protect, Carnauba Jet Wax,
Rim Cleaner & Rim Blast, Tire Shine,
Jet Blast Power Wash, Lava Blast Cleaner,
Vision Clear Windshield Treatment,
Jet Underbody Blast, Jet Body & Bumper Blast
Free Vacuums
Prices Compared to Other Car Wash Brands
There is no doubt that Jet Brite Car Wash wins the affordability criteria. Their business model emphasizes cost-effectiveness, aiming to provide thorough cleaning services for vehicles at lower prices. However, other car wash providers also differentiate themselves from the competition through other areas. Here's how it fares against other competitors.
Jet Brite Car Wash Prices vs. Other Brands

Price: (Cheapest Single Wash - Exterior)
Washman Car Wash is great for people who love collective rewards. The company offers a gift card program where $30 or more on a Washman gift card adds 33% more value. Fast5xpress Car Wash is known for its simple, fast process for the unlimited member pass.
Rainstorm Car Wash offers a ceramic wash, where an inorganic material is sprayed on the car, forming a thin layer shield around the whole vehicle to protect it from road dirt and debris.
Mr. Clean Car Wash offers a variety of services across various locations. They focus on seven critical areas of the car, including oil changes, maintenance services, cleaning the car's interior, spot cleaning wheels, and shining the body and hood.
Jet Brite Car Wash Coupons: How to Save
A $10 first-month trial membership is available for new users, providing access to two specific wash packages: Ceramics Ultra Finish and Jet Blast and Shine. The membership, cancellable at any time, can be initiated at any of the 11 locations. This introductory offer is limited to these two Monthly Unlimited plans.
How To Pay For Jet Brite Car Wash?
The pay terminals, designed for user-friendliness, facilitate wash selection and transaction completion, with the acceptance of both cash and credit cards. The terminals are not programmed to promote wash upgrades. Wash services begin at a base price of $3.00, and change is provided by the machines.
Jet Brite Car Wash Near Me Locations: Hours, Customer Service Number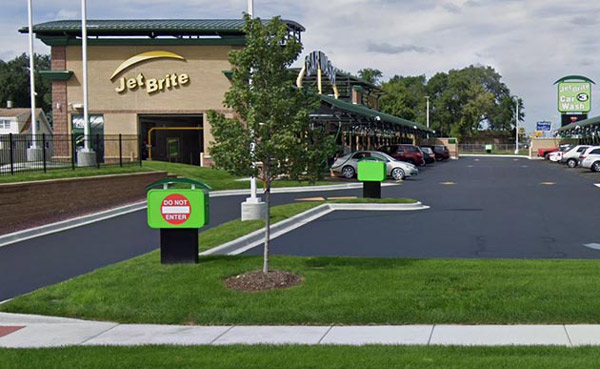 For your convenience, we present the various locations and contact numbers for Jet Brite Car Wash. Ensure easy planning for your next car care visit.
Jet Brite Car Wash Customer Services:

625 W. Lake Street, Addison, IL 60101

1427 N. Farnsworth Avenue, Aurora, IL 60505

246 South Weber Road, Bolingbrook, IL 60490246 South Weber Road, Bolingbrook, IL 60490

600 East Boughton Road, Bolingbrook, IL, 60440

1251 N. Gary Avenue, Carol Stream, IL 60188

7150 W. 54th Street, Chicago, IL 60638

Chicago Car Wash (Grand Ave)

6948 W. Grand Ave, Chicago, IL,60707

2100 N Mannheim Rd, Northlake, IL 60164

850 E Ogden Avenue, Naperville, IL 60563

153 W. Roosevelt Road, Villa Park, IL 60181

900 Lake St., Roselle, IL 60172
Tips & Guides: How to Use Jet Brite Car Wash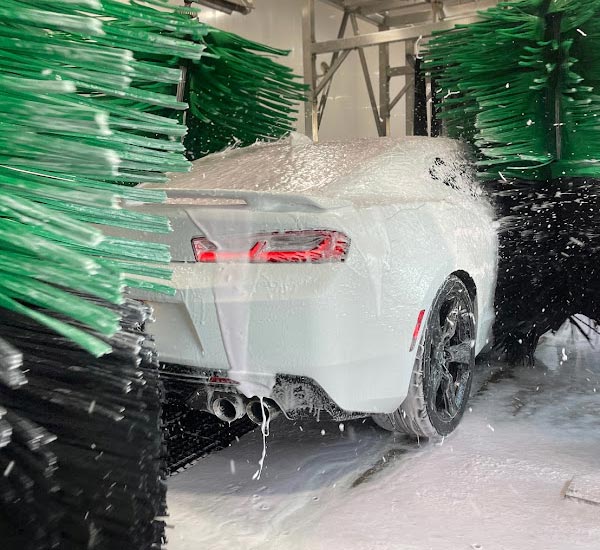 First, approach the self-service pay stations and choose the desired wash package. Pay using cash or credit, with prices starting at $3.00. Next, drive to the tunnel entrance.
Staff will be available to guide you onto the conveyor. Set the vehicle to neutral. The automated process will then clean and dry the vehicle. Post-wash, additional facilities such as a Central Vacuum System, Bug Prep Station, and Mat Cleaners are available for use. These are typically included in the service at no extra charge.
How To Cancel Jet Brite Car Wash Membership?
For members who signed up at the car wash without creating an online account, please email [email protected]. If you signed up or created an account online, manage your membership via the Vehicles tab. Select Membership Status under My Account and choose 'Suspend' to halt future billings.
Jet Brite Car Wash Reviews: Is It Worth It?
Customers are really enjoying the price offered by Jet Brite Car Wash. With a starting base price of $3 per exterior wash, the company gives a very affordable option.
It is also noteworthy to mention that most car washes provide a single exterior wash at $10, but Jet Brite offers unlimited basic exterior washes at the price. When going for a car wash, expect that you might have to wait in a long line due to the demand for their service.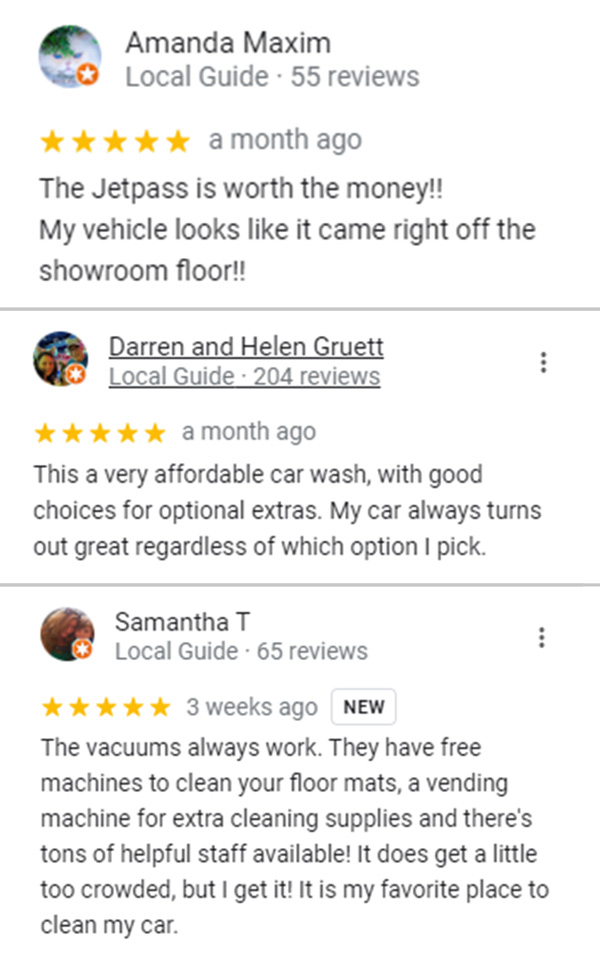 Unfortunately, due to the high service demand (due to its affordability), the customer service and wash quality might not be reliably on par with expectations. They seem to receive a lot of complaints regarding damaged vehicles and problems with plan cancellation.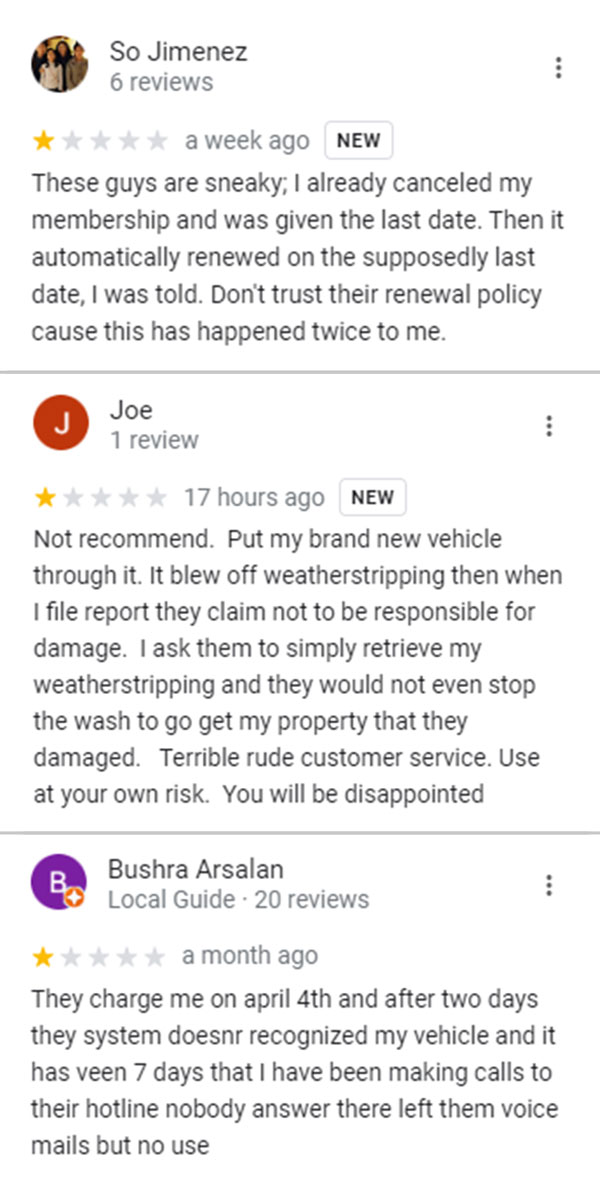 Final Thoughts
Overall, if you need an affordable car wash service, Jet Brite Car Wash is undoubtedly a great option. With its $3 single washes and $10 unlimited monthly options, this company offers a sweet offer for budget-minded individuals.
But due to their limited location, customer service reputation, and high service demand, this company might not be for you if you're looking for a quick car wash. Time your schedule during off-peak hours to lessen waiting time.
---
FAQs:
1. How Much Does a Wash Cost at Jet Brite Car Wash?
A single wash at Jet Brite Car Wash starts at $3.
2. Jet Brite Car Wash Exterior Express Price?
The exterior express washes range from $3 to $15. The Ceramic Ultra Finish is the most thorough exterior wash, priced at $30.
3. Jet Brite Car Wash Full Service Price?
Jet Brite Car Wash doesn't offer full-service washes as they specialize in exterior cleaning services.
4. How Much Does Jet Brite Car Wash Unlimited or Monthly Cost?
The monthly unlimited plans at Jet Brite Car Wash start at $10.
5. Jet Brite Car Wash Fleet Plan Price?
The fleet plan is priced at $25 for unlimited monthly washes.
6. How Much Does Jet Brite Car Wash Franchise Cost?
The information regarding the Jet Brite Car Wash franchise's cost is unavailable.

Please follow and like us: