At a Glance: 
• Moo Moo Car Wash is a vehicle-cleaning provider based in the area of Ohio.
• It offers express, retail, and unlimited wash plans for its customers.
• For as low $7, you can expect the utmost vehicle serving at great pricing. 
The tale of Moo Moo Car Wash started with owner John Roush's personal experience. With a bad experience in finding a good car wash, he decided to create one himself. In 2008, Roush created the best car wash company that offers full-service car wash, self-service car wash, and automatic car wash. Read on to find out more about the company. 
What is Moo Moo Car Wash?
Moo Moo Car Wash is an Ohio-based automobile service provider known for its, fast, high quality, and eco-friendly offerings. It is currently operating on 17 locations around Ohio. First founded in 2008, Moo MooCar wash knows the modern needs of a modern car owner when it comes to cleaning their vehicles. Therefore, the company aims in giving excellent and convenient services for its customers. 
How Does Moo Moo Car Wash Work? 
You can drive into any Moo Moo car wash branches and enjoy their washes for as low as $7 for a basic wash. Lube services with great discounts are also available in most of Moo Moo's major locations for people who are looking for convenience. Regular cleaning needs? The best option is the Moo Moo car wash pass for a monthly discounted price. 
Is Moo Moo Car Wash Touchless? 
Options for touchless and handwash services are available. In addition to the car wash, drivers can also avail of any lube services and engine maintenance. For each Moo Moo Lube services availed, the customer gets a free Moo Moo car wash express. 
Moo Moo Car Wash Prices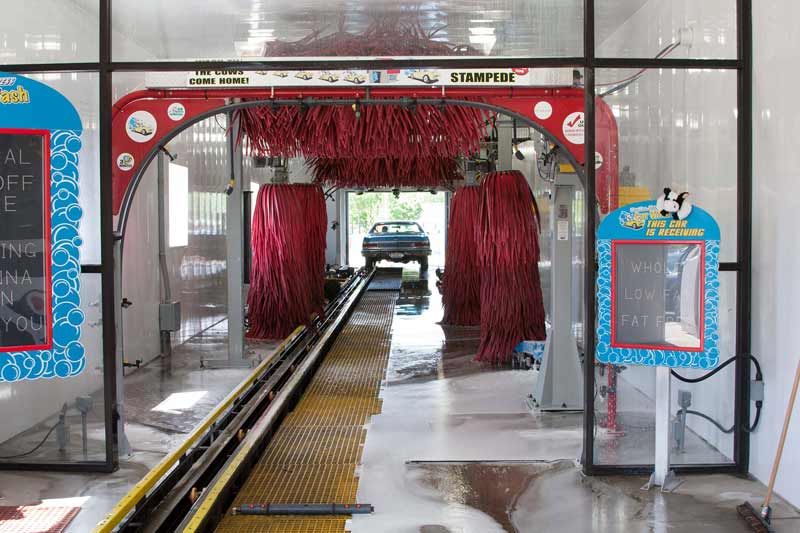 There are three major offerings available: the usual one-time wash offerings, the unlimited plan, and lube services. You can ensure the best price for services, as all of the car wash plans are under $20. Whether you want regular cleaning or a once a month cleaning, you will get the best of both worlds. Learn more about the prices below. 
Prices for All Moo Moo Car Wash Services
For retail prices, here is the cost of Moo Moo Car Wash offerings. Each plan has something new to offer, but if you need a basic cleaning, you'll only need $7. 
Low-Fat Wash – The most basic offering of Moo Moo car wash. Each of the simple car wash needs is checked for only $7.
Whole Plus – Adds wheel brightener, super tire shine, and ultra shield paint protectant to the list of services for only $12. 
Creme De La Creme – This plan is currently of the best value with the best services Moo Moo has to offer for only $18. It has all the options of the previous plans in addition to Carnauba Hot Wax, Dash Wipe, Foam Bath, and a free air freshener. 
Prices for Moo Moo Car Wash Unlimited Washes
If you want your car to get cleaned every day, you can do so by opting for the unlimited wash pass. Get unlimited wash at any Moo Moo car wash locations across Ohio. 
Low-Fat Plus – For only $24.99 a month, you get unlimited Low-Fat washes, no additional costs needed. 
Whole Plus Fat – If you need protectant and tire cleaning, the Whole Plus Fat Plan is a decent option for $24.99.
Creme De La Creme – For all-around cleaning and maintaining your car's best looks, get the Creme De La Creme unlimited plan for $32.99. 
Prices for All Express Lube Services
Here is the list of main Moo Moo Lube packages available. Each package has specific functions that improve the performance or maintenance of your car. Lube services can be available at any Moo Moo Car Wash locations in Ohio. 
Gold Plan– Semi-synthetic solution that's best for hard-working engines. Consists of both cleaning and protection agents. In addition, this plan protects the engines from wear and tear for only $59.99.
High Mileage – For cleaning sludge in the engine, as well as protection in seals and gaskets. Get your high performance back for only $64.99. 
Platinum – A fully synthetic solution dedicated to utmost cleanliness and engine protection. You can expect cleanliness and protection recommendations higher than the manufacturer's standard for only $79.99. 
Royal Purple – WIth this plan, you can expect a boost in performance at all driving conditions. Your car would also be cleaned and conditioned for better mileage and cleaner operations. This plan is only $109.99. 
Moo Moo Car Wash Prices List
Moo Moo car wash regular services at retail prices. Customers can get a better deal if they look out for events and promotional seasons for an even better-discounted price.
Moo Moo Unlimited Car Wash Prices List
Meanwhile, here are the prices for the unlimited version of Moo Moo's retail packages. You can use your membership at any company location all around the country.
Moo Moo Car Wash Lube Services Prices List
No appointment or plans needed; you can avail lube services to boost your car's performance. Here are the available lube services and their prices.
How to Reduce the Cost?
Moo Moo Car Wash Coupons
As of this writing, you can get a free express car wash and free vacuum worth $5 for every lube service you would avail. All you have to do is to show the coupon that can be found on this page upon check out. In addition, you can also print or show a coupon (found on the same page) to redeem a discount of $5 off any lube services. 
Moo Moo Car Wash Gift Cards
The company also offers Moo Moo car wash gift cards for people who like to gift their friends and loved ones a free car wash. This gift card can also be used by people who like to share expenses for car maintenance and cleaning. Get your Moo Moo car wash gift cards now at any company location. You can check the balance of your card using this page. 
Moo Moo Car Wash Hours Near Me Locations
Starting in 2008, Moo Moo Car Wash is now operating with 17 locations statewide. In addition to its main locations, there are dozens of self-service express locations for people who need to save money while getting their car cleaned. 
What Time Does Moo Moo Car Wash Open? 
Major locations are usually open from 7 AM to 8 PM. There might be slight changes during weekends or any holiday. Moo Moo Express car wash locations are open 24/7 to accommodate the needs of its customers. 
Moo Moo Car Wash Corporate Office
For more inquiries, suggestions, and billing options, you can get in contact with the Moo Moo car wash corporate office by sending mail at this address: 13375 National Road SW, Suite D, Etna, OH 43068. 
For a quicker response, call (614) 751-WASH (9274). You can also send them an email at [email protected]. 
How to Cancel Moo Moo Car Wash?
You can cancel your Moo Moo Car Wash unlimited membership any time without additional charges at any location. Before visiting, make sure to jot down the details of your membership, Alternatively, you can submit your cancellation form right here on this page. Select the cancellation option and fill-up the form. Take note: if you cancel your membership, there will be a reinstatement fee of $5, as well as increase for future membership enrollment. 
Moo Moo Car Wash Reviews
Customers of Moo Moo Car Wash keeps coming back because of its ease of access and its great price. The staff is friendly, the wash packages are effective and efficient, and the service is quick. Some customers also love the cow-themed display and puns the company has to offer. 
As for the staff, people who worked in the company recommend Moo Moo as a first job. The upper management guides staff in a very encouraging way and handles situations with grace. Working at Moo Moo is also flexible and non-stressful, with the above-average starting salary, in addition to bonuses and incentives. 
Final Thoughts on Moo Moo Car Wash
You can always expect quick service and good prices at Moo Moo Car Wash. You can also give your vehicle a refresh by getting lube options. Overall, Ohio drivers will enjoy saving money at Moo Moo. For other states, you can try other car wash service providers offered by other companies in other areas. Some of the companies that as good as Moo Moo car wash are Tommy's Express Car Wash, Mister Car Wash, Autobell Car Wash, Brown Bear Car Wash, Delta Sonic Car Wash, Zips Car Wash, Goo Goo Car Wash, Hoffman Car Wash, Mike's Carwash, and Quick Quack Car Wash.
FAQ
Moo Moo Car Wash Franchise Cost?
The company is a franchise of Express Car Wash, along with Flying Ace Car Wash and Clean Express Autowash. It has been one of the fastest-growing franchises in the country. For more information about franchising, you can make an inquiry via email: [email protected]. 
How Can You Contact Moo Moo Car Wash?
Each location has its own numbers, calling the branch location, or visiting the one nearest to you is the best and fastest way to transact with Moo Moo. You can find out more about their contact list on this page. 
Is There A Way To Check Gift Card Balance Online? 
Unfortunately, there is still no mobile app available for your Moo Moo Car wash transactions. However, you can check the balance of any of your Gift Cards here. 
What Are The Requirements To Work At Moo Moo Car Wash?
As long as you're legally allowed to work in your state, you can apply for a position at Moo Moo. The requirements for a staff position is friendly customer service performance and the patience to clean and work on your feet for quite a long time. The ability to work under pressure in a fast-paced environment is also preferred. 
Can You Cancel Your Unlimited Plan Before Expiry?
Yes, you can cancel your unlimited plan anytime, even before it expires. You can still use the service and benefits of the unlimited plan until the next billing payment.
Please follow and like us: