At a Glance:

Sheetz is a convenience store chain that offers car wash services in various locations. 
The touchless car wash locations are available 24 hours a day, 7 days a week along with the gasoline and convenience store.
A car wash starts at $5 or $9, depending on whether the location uses three or four wash packages to represent their products. 
Sheetz is a family-operated convenience store chain that primarily provides food products and services for motorists and car drivers in multiple states. It offers touchless one-wash packages, but not monthly unlimited plans.
Introduction of Sheetz Car Wash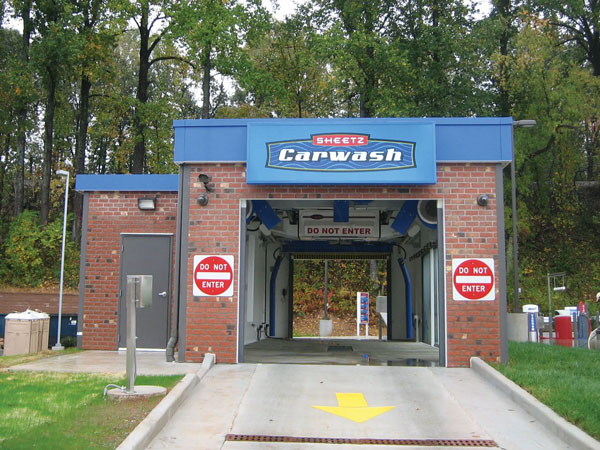 Established in 1952, the first Sheetz franchise was founded by G. Robert "Bob" Sheets. Bob was able to transform a diary store into a convenience store in Altoona. Six decades later, this store in Altoona has been the headquarter. As of now, there are over 550 locations in Ohio, Pennsylvania, Virginia, North Carolina, and Maryland and is still owned by the Sheetz family. Most of their car wash facilities are open for 24-hours.
Sheetz Car Wash Prices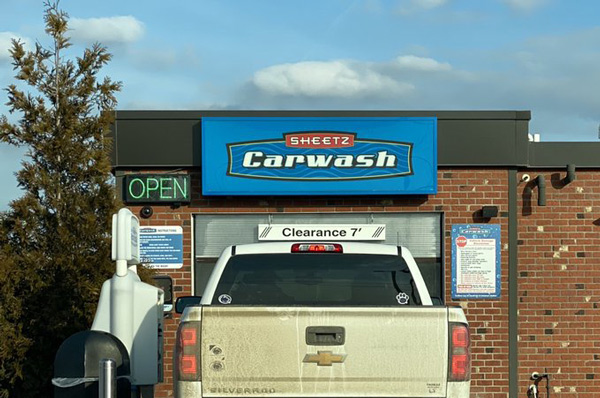 Similar to typical convenience stores, Sheetz offers touchless and everyday-open wash packages to drivers who need to grab a snack, refuel, or get their cars cleaned. However, not all stores offer car wash services.
How Much Is A Car Wash At Sheetz?
Sheetz car wash is quite popular for its $5 wash, which delivers very basic services (presoak, rinse, and dry) through the laser wash 360+ machine. Other locations offer package tiers that start with $9 which includes undercarriage wash and clear coat.
Prices for All Sheetz Car Wash Services
As of now, Sheetz is offering basic, shine, or pro-finish packages which are available at prices ranging from $9 to $15. Users can opt for basic washes + coating, or add the triple foam polish and Hot Wax from Simoniz. Unfortunately, the establishment is not offering full service car wash facilities.
Sheetz Car Wash Prices List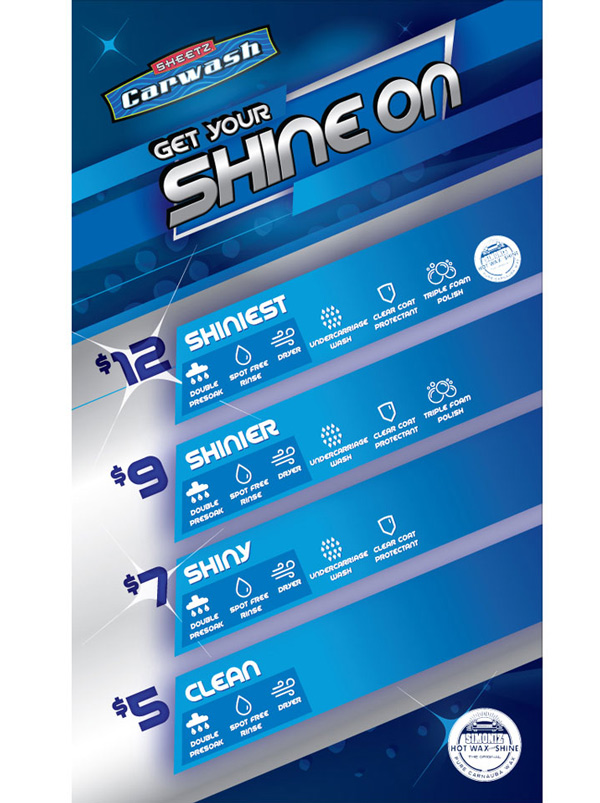 Here is the price of current Sheetz 3-tier car wash packages. The packages are also available in four price tiers at $5, $7, $9, and $12 with varying wash inclusion. Your purchase experience might vary based on what is available in the location.
Sheetz Car Wash Prices (Touchless 3-Tier)

Double pre-soak + Spot-free Rinse + Dryer + Undercarriage + Clear Coat

Protect Package + Triple Foam Polish

Shine Package + Simoniz Hot Wax
Sheetz Car Wash Prices Compared to Other Car Wash Brands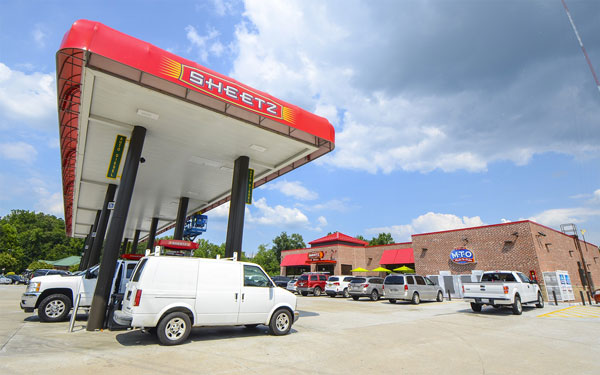 One of the best things about Sheetz Car Wash is its affordability, although it doesn't offer a full service car wash. For an exterior-only offering, their Protect bundle is on par with other providers plus the undercarriage and clear coat.
Sheetz Car Wash Prices Compared To Other Brands (Exterior Only)
Are There Ways to Reduce Cost? – Sheetz Car Wash Coupons & Discounts
Sheetz offers a very accessible Rewards Program, in which you can get certain discounts and perks for regular users. Unfortunately, most coupons are for food and fuel use. The company's social media accounts would occasionally provide car-wash related promotions for various locations, and serves as a better source of discounts.
Overall, getting the Sheetz Reward App is a great way to reduce any related cost if the user plans to shop, refuel, or get a car wash on Sheetz locations regularly.
Sheetz Car Wash Hours, Locations Near Me & Contact
The best and easiest way to find the nearest Sheetz Car Wash locations is to use its mobile app. It will easily tell you how far you are to a Sheetz location upon placing an order. You can also arrange a pickup schedule for your food orders. Use the "Find A Sheet" option to know their contact details and hours of operation.
How to Cancel Sheetz Car Wash Plan?
Sheetz doesn't offer an unlimited car wash plan, they only offer a one-wash exterior service. But there are subscription offers for food such as unlimited self-serve beverages.
Final Thoughts
Overall, Sheetz Car Wash is a pretty neat and budget-friendly exterior-only car care provider. If you want a quick and inexpensive car wash, their facilities will suffice. Unfortunately, you can only enjoy car wash discounts when they are in promotion, which is scarce since the company is more aligned with its food service.
---
FAQs: (Frequently Asked Questions)
How Much Does Sheetz Car Wash Cost?
Sheetz Car Wash usually starts at $6 or $9 (depending on what tier is available in the kiosk)
How Much Does Sheetz Touchless Car Wash Cost?
It starts at $6, with the most expensive option reaching $15.
How Much Does Exterior Wash Cost At Sheetz Car Wash?
All of their services are exterior washes, ranging from $6 to $15.
How Much Does Sheetz Full Service Car Wash Cost?
They don't offer full service car washes.
How Much Does Sheetz Unlimited Car Wash Cost?
They currently don't have any monthly plans.
How Do You Use Sheetz Car Wash Plan?
If you want to subscribe to their food-related monthly subscriptions, you can do so by checking the Reward App and in the "More" area.
How To Cancel Sheetz Car Wash Plan?
They currently don't have any monthly plans.
Please follow and like us: