At a Glance:
Goo Goo Car Wash is a car wash service provider specializing in exterior and full-service washes. 
You can get an easy wash with express for as low as $7. 
Most Goo Goo Car Wash branches are open every day from 8 AM to 8 PM.
Goo Goo Car Wash is one of the leading car wash service providers in some states. Known for its 3-minute Express Wash, the company offers other services and other car cleaning features. Read on to find out more about its services and included proprietary offerings below.
What Is Goo Goo Car Wash?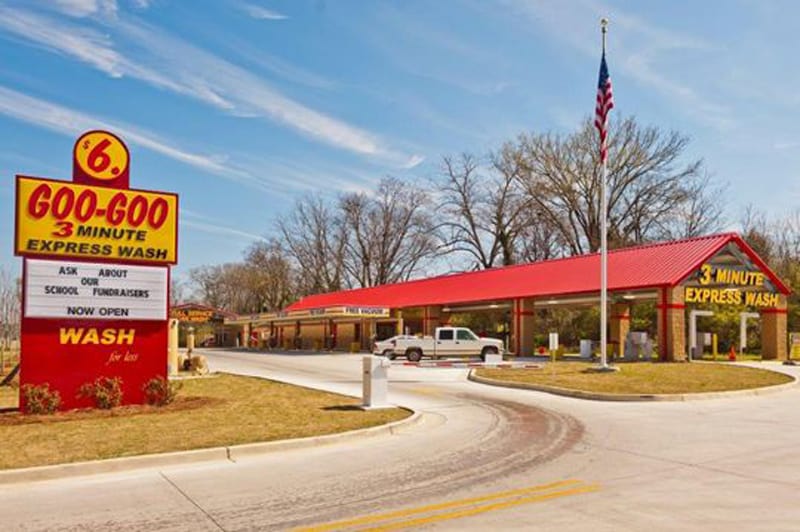 The Goo Goo Car Wash is a car wash provider that uses cutting-edge technology to deliver their services. Services are bundled together with different plan tiers which aim to meet the customers' budget. Its office is currently in Columbus, Georgia.
A family business in papers, a community advocate by heart. Goo Goo Car Wash has been serving motorists in the area for more than 50 years. It used to operate with the Goo Goo Restaurant, which burned down a few years ago.
Who Owns Goo Goo Car Wash? 
R.D. Beck founded Goo Goo Car Wash in 1945 after buying a washing company. Improving the company, R.D. Beck was then succeeded by Lamar Beck during the 1970s. Since 2002, the company is now managed by Roger Beck and Darren Bradham, who brought the Express Wash concept to the company.
Goo Goo Car Wash Prices: How Much Does Goo Goo Car Wash Cost?
The company uses bundles and packages that address the customers' needs. Unlimited memberships are also available for people who like to keep their vehicles shiny and clean regularly. How much is Goo Goo Car Wash worth? Check on the table below to find out. 
How Much Is A Car Wash At Goo Goo?
If you have a $7 of spare change, you can get your car cleaned within three minutes via Express Wash. However, the Best Deal plan is the recommended bundle when you want all the services from Goo Goo Car Wash for $49.95. 
How Much Does Goo Goo Car Wash Membership Cost?
Unlimited car wash is available by purchasing the Rapid Pass. This pass doesn't require a contract, no sign-up fee.  The Goo Goo Car wash membership cost is only $39.95 paid monthly. All you have to do is to put the Rapid Pass decal to your car to trigger the Goo Goo Car Wash gate and receive your service.
Prices For All Goo Goo Express Car Wash: 
Whether you want a basic wash or want the best cleaning in your car, Goo Goo car wash has options for you. Here is the list of car wash packages offered by the company. 
Goo Goo Car Wash Full-Service Car Wash Price:
Best Deal – includes full-service car wash, vacuum service, window clean, wipe down the interior, triple foam, air freshener, wheel clean, tire shine, complete armor-all, and premium hand wax for $49.95.
Hand Wax Plus Wash – all the best offers except complete armor-all for $34.95.
Super Wash – this package doesn't have the premium hand wash, but it does include the armor-all feature at $29.95.
Goo-Goo Special – you can enjoy features from full-service car wash to tire shine options at $21.95.
Manager's Special – Manager's special is a bundle with basic services only and an additional Goo Goo car wash air freshener for $18.95.
Full-Service – Full basic service from Goo Goo Car Wash Full-Service price for $17.
Goo Goo Exterior Washes Price:
Polymer Pro– features free vacuums, free mat cleaners, wash, power air dry, tire clean, triple foam, clear coat protectant, double soap, tire shine, underbody flush with anti-rust, foam wall shine, and polymer pro for $21.
Ultimate – has the same features are Polymer Pro, but with Carnauba Wax instead of $18 per wash.
America's Best– all the features of Polymer Pro until the anti-rust inhibitor at $12.
Works Wash – doesn't have polymer pro, carnauba wax, foam wall shine, and rust inhibitor, but only costs $12 per wash.
Goo-Goo Special – for $9, you can get free vacuums service, free mat cleaners, exterior wash, power air dry, tire clean, triple foam, and clear coat protectant.
Express – features the most basic exterior wash for only $7.
Goo Goo Car Wash Unlimited Prices
The Rapid Pass is Goo Goo Car Wash's offering for people who like unbeatable value for their car cleaning habits. In addition to unlimited washing, you also get unlimited use of free vacuums, paper towels, and window cleaners. Each pass has an RFID and barcode which triggers the operation and gives you access to facilities. All of these features for a monthly cost of $39.95. Only one vehicle is viable for a registration at a time.
Business/Fleet Accounts Prices
Customers with business accounts or more than one car to register can still apply for business or fleet accounts. There is no set of information about business and fleet plans. To avail, you need to contact the nearest Goo Goo Car Wash branch near you or send a message to the customer case page here. Make sure that you include a phone number in your email once you sent your items. Check your spam or junk folder for replies from the company's customer care.
Goo Goo Car Wash Price List For All Services
Here is a full price list of Goo Goo Car Wash. Check out the best option for your budget and your car washing needs.
Goo Goo Car Wash Coupons & Gift Cards Prices
Want to say "thank you" and show your appreciation to someone? Or do you like to tell someone how dirty their car is without offending? Now you can with the Goo Goo Car wash gift card. It is only available for the Unlimited Fast Past with the same price of $39.99, but you can give it to someone else instead. As of now, this is the only gift card offering from the site. 
As for wash coupons, you can get a $5 off on your next Polymer Pro wash. Just head on this page and find a location near you. In addition, you can take 50% off your first month on VIP unlimited wash pass if you avail it before April 30, 2020. More information for this promo on this page.
Does Goo Goo Take Cash?
For unlimited membership, the company accepts credit cards. You don't have to pay for additional RFID decal unless you lost it and you need a replacement.  Payments can be canceled immediately if you don't want to avail of the service anymore. If you want to use the services without a membership, you can pay in cash on every branch of Goo Goo Car Wash.
Goo Goo Car Wash Hours Of Operation Near Me Locations & Contact Info
Goo Goo Car Wash branches are scattered all over the country. If you live in a major city, there's a great possibility that a branch is near your location. Take note: prices can vary from one place to another, and some services might not be available in some places.
Goo Goo Car Wash Customer Care:
The friendly staff of the company will assist you in your needs on any Goo Goo Car wash locations throughout the country. Just search for "Goo Goo Car Wash near me" to know the nearest location close to your area. But if you want a more convenient way to contact the company, you can give a call to the customer service department at 1 (888) 563-9253.
You can also send them an email at [email protected]. Or use the following links for more specific inquiries.
What Time Does Goo Goo Car Wash Open? 
The Goo Goo car wash hours of operation usually starts at 8 AM and close at 7 PM, except on Sundays, when the operating time is often shorter. Check out the Goo Goo Car Wash availability in your area using the table below.
Goo Goo Car Wash Reviews
One of the best services that Goo Goo Car wash gives is an automatic car wash using Express. They also have manual car wash options for people who like more customized cleaning. Customers like the fact that there are free unlimited vacuums and free window cleaner for its full-service car wash and more. Both the touchless car wash and mobile car wash are quick and easy. 
Another reason why customers are coming back is the good locations of Goo Goo car wash facilities. Staff are friendly and professional in dealing with customers. Automatic facilities are very easy to use, especially the free vacuum. Upon getting to the site, the friendly staff will start cleaning the windshield right away.
Goo Goo Car Wash Compared To Other Competition
Goo Goo Car Wash is still expanding its operation to other places. However, if there is no Goo Goo car wash location in your area, you can try other car wash providers like Brown Bear Car Wash, Car Spa, Mike's Carwash, Crew Carwash, Delta Sonic Car Wash, Autobell Car Wash, Hoffman Car Wash, Quick Quack Car Wash, Mister Car Wash, Zips Car Wash, Terrible Herbst Car Wash, Splash Car Wash, Classic Car Wash, Moo Moo Car Wash, and The Wash Tub.
Final Thoughts
Goo Goo Car Wash is a reliable and budget-friendly car wash company that has been serving customers since 1945. Simple products, great execution. Although options such as more flexible gift cards, as well as more unlimited options, would be epic additions to their services.
---
FAQs:
How To Cancel Goo Goo Car Wash Membership? 
Any unlimited pass can be canceled on Goo Goo car wash locations. But if you want a more convenient Goo Goo Car Wash Rapid Pass cancelation method, head here and fill out the Pass Cancellation Form. You will hear from a customer service representative once your request has been processed.
Goo Goo Car Wash Job Application:
How Old Do You Have To Be To Work At Goo Goo? 
It depends on the state laws in your area. The US Department of Labor sets the age of 14 years old as the minimum age for employment. However, there are states that will only permit minors to work under the age of 16. Check your local laws for more accurate information.
How To Apply For A Job From Goo Goo Car Wash? 
Benefits in working at Goo Goo Car Wash include competitive pay, health benefits, and free car washes. If you're ready to experience working for this company, head on to this page to start gaining experience.
Please follow and like us: