At a glance:
Jacksons Car Wash is known for its very configurable vehicle care services in the Arizona Region. 
Currently, the company offers Express Wash, Full Service Wash, and Unlimited plans. 
Customers can visit Jacksons within multiple locations from 8 AM to 5:30 PM every day. 
Jacksons Car Wash is one of the budget-friendly car care options in Arizona. It is currently offering a 4-tier wash structure for its car wash services. Read on to find out more about its services and its pricing.

Introduction of Jacksons Car Wash
If you ever need a hand car wash, polishing, oil change, and express detailing services, you might want to try opting for Jacksons Car Wash services. It has been operating since 2015 has since expanded its services.
The company is open every day from 8 AM to 5:30 PM except on holidays. They also offer monthly maintenance plans, which provide almost all the automotive services available.
Jacksons Car Wash Prices
Customers can have a lot of options based on their budget and preferred package inclusions. There is also a huge discount if you joined their car wash club.
How Much Is a Car Wash at Jacksons Car Wash?
As of now, the best bang for the buck option is the $19.99 Basic Wash. But you can go as much as $39.99 for their top-tier options. Unlimited packages are also available if you want to get limitless access for a month.
Prices for All Jacksons Car Wash Services
With its 4-tier packages, customers can prioritize price or functionalities. Here are the current Jacksons Car Wash full-service packages available.
Basic Wash ($19.99)
Works Wash ($24.99)
VIP Wash ($29.99)
Ultimate Wash($39.99)
Jacksons Car Wash Prices List:
The franchise is also offerings unlimited membership versions for their Express packages. Express wash comes with basic exterior wash and other options such as ceramic wax add-ons.
Jacksons Car Wash Prices (Express)

Pressure Air Dry + Wheel/Tire Shine + Premium Ceramic Wax
You can also add $5 for add-on brake dust repellant, wheel shine, disinfectant, and leather conditioner. They also offer a Signature Hand Wash only available at Scottsdale and San Tan.
Jacksons Car Wash Prices (Full-Service)

Exterior Wash + Vacuum + Interior/Exterior Window Cleaning

Basic Wash + Tire Dressing + Air Freshener

Works Plus + Dash UV Protectant + Ceramic Paint Protectant

VIP + Vinyl UV Protectant + Free Express wash Voucher. Two add ons
Jacksons Car Wash Prices for Unlimited Monthly Plans
Jacksons Car Wash Prices Compared to Other Car Wash
Most car wash franchises offer the same packages but with different pricing configurations. However, Jacksons got a whole new pricing scheme and upgrade options which might get a little confusing if you're a first-time customer.
The price of Jacksons packages is on the more expensive side. If you only need to remove a bit of dusting out of your car, you might want to stick to their express version or find other cost-friendly franchises.
Jacksons Car Wash Prices vs. Other Brands

Prices: (Cheapest Full-Service Washes)

Unlimited Only ($49.99 / month)
Jacksons Car Wash Coupons:
How to
Reduce the Car Wash Cost?
There are a few ways to get free Works Wash at Jacksons. You can sign up for the mobile app, enroll in the text program, spend at least $150, or visit any locations during your birthday. A referral program will also earn you a Works car wash for referring 2 friends in the mobile app.
And of course, there are also coupons available throughout the year. As of now, they have coupons for their March promotions which can be accessed below.
They also offer 10% community discounts for seniors, an early-bird discount every Sunday before 9 AM, military discounts, student and teacher discounts. You can opt for the half-off Wednesdays to save 50% on your purchase.
And lastly, you can fill out a survey to get an automatic $5 reduction on your next wash. However, all requirements stated in the form should be completed.
How to Pay For Jacksons Car Wash?
Customers can either use cash or credit card via the counter or kiosk. Members who have fast pass from their unlimited plans need to maintain their RFID tag on their windshield or driver door jamb to continue availing their benefits.
Tips & Guides: How to Use Jacksons Car Wash?
Maximize the community discounts to make your washes cheaper, especially the Wednesday half-off initiative.
How to Cancel Jacksons Car Wash Membership?
Fill out the form on this page to discontinue your unlimited wash. You can also disable your maintenance plan if you opt for the service.
Jacksons Car Wash Hours & Corporate Office Phone Number
The company's primary way of communication is via the contact form found at the bottom of their homepage. You can also contact them via their social media accounts.
Jacksons Car Wash
Near Me
Locations
: Find Your Carwash
You can find the nearest Jacksons Car Wash near you by using this store locator or find the information using this table below.
Jacksons Car Wash Locations Near Me

1954 E Highland Ave, Phoenix, AZ 85016, United States

2090 E Rio Salado Pkwy, Tempe, AZ 85281, United States

2501 W Happy Valley Rd, Phoenix, AZ 85027, United States

12010 N Tatum Blvd, Phoenix, AZ 85028, United States

14717 N Northsight Blvd, Scottsdale, AZ 85260, United States

4027 S Gilbert Rd, Gilbert, AZ 85296, United States

18736 N 83rd Ave, Peoria, AZ 85382, United States

8369 W Bell Rd, Peoria, AZ 85382, United States

15515 N Scottsdale Rd, Scottsdale, AZ 85260, United States

2303 E Thomas Rd, Phoenix, AZ 85016, United States

2870 S Market St, Gilbert, AZ 85296, United States

21001 N Tatum Blvd Ste 4, Phoenix, AZ 85050, United States
Jacksons Car Wash Reviews: It is Worth?
If getting discounts every week is your priority, or if you want to upgrade your packages in each visit (even for unlimited plans), then Jacksons might be the best option for you.
Jacksons Car Wash Application: How to Apply?
Select any open position from this page, which will get you to the job posting. You would need to answer the contact form, general questions, and submit your resume. Applicants can apply via phone at (855) 216-4446.
Jacksons currently have 45 open jobs across Arizona. But if nothing interests you at the moment, you can get job updates by filling out the form at the bottom of the page with your contact details and resume.
Employees receive various benefits such as flexible schedules, tuition reimbursement, insurance (medical, dental, vision, and life insurances), and free car washes.
Final Thoughts
Jacksons Car Wash is on the expensive side of first-wash or single wash experiences. But their membership options, with many upgradeable plans, can be godsent for those who want specific washes and prices. However, the experience won't be as pleasant for those who don't want to get bombarded with membership or add-on sales pitches.
---
FAQs: (Frequently Asked Questions on Jacksons Car Wash)
Here are some answers to FAQs for Jacksons' Car Wash Services.
1. How Much Does a wash cost at Jacksons Car Wash?

A full-service car wash ranges from $5 to $20.
2. What's Jacksons Unlimited Plan Car Wash
Price
?
Unlimited plans start at $20 for Express, $25 for Express+wax, $35 for full-service, and $40 for a VIP plan.
3. What's Jacksons Express Car Wash Price?
Express is available for $10 (Downtown), $15 (Midtown), and $20 (Uptown).
4. What are the Jacksons Full Service Car Wash Price?
Full-service washes can be bought for $19.99 (Basic Wash), $24.99 (Works Wash), $29.99 (VIP Wash), and $39.99 (Ultimate Wash).
5. What's the Jacksons Detailing Car Wash Price?
Here is the current price table for Jacksons detailing services.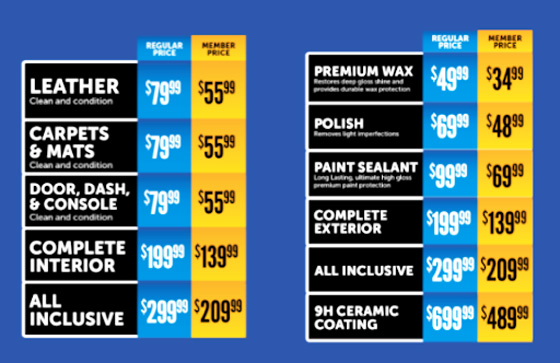 6. How Much Does Jacksons Discontinue Plan Car Wash Cost?

You can discontinue your monthly unlimited and maintenance plans using this link.
7. How Much Does Jacksons Signature Hand Car Wash Cost?
It depends on your vehicle. Contact the Scottsdale location for more information.
Please follow and like us: