At a Glance:
Crew Carwash is a carwash company based in Indiana. It is the sister company of the Ohio-based carwash chain, Mike's Carwash. 
Get your car look brand new again for as low as $10 per wash. The company also offers unlimited plans, automatic car wash, and self-service options. 
Crew Carwash usually starts at 7 AM and will be closed at 9 PM. Occasionally,  huge carwash savings are given to loyal customers via promotions. 
Overall, the customers love the outstanding customer service and the decent array of affordable wash options the company offers.
If you're living in Indiana and you need to clean your car, Crew Carwash is one of your best options. Originally a part of Mike's Carwash, Crew separated from the parent company for a more centralized operation. Learn more about its affordable offerings from the list we prepared below.
What Is Crew Carwash?
Crew Carwash was originally started by Joe Dahm in 1948, calling it "Mike's Minit Man". With continuous success for over 7 decades, the company is still owned by the same family today, albeit branching out the operation to Ohio and Indiana. As of now, Bill Dahm is the current CEO of Crew Carwash, while Mike Dahm is the CEO of Mike's Carwash. 
Does Crew Carwash Have Free Vacuums? 
The carwash has vacuum islands offered via a self-service car wash. In addition to vacuums, these self-service locations also have glass cleaners, micro-fibers, and other car care items. These facilities are available for a very small price. 
Does Crew Carwash Have Air? 
With 16 hot air dryers, you can rest assured that there will be no spotting in your car. 
Is Crew Carwash The Same As Mike's Car Wash? 
Crew Carwash and Mike's Car Wash is owned by the same family. Both car washes are operating in different locations. Both Crew and Mike's are just reorganizations of one parent company. 
Crew Carwash Prices: How Much Does Crew Carwash Cost?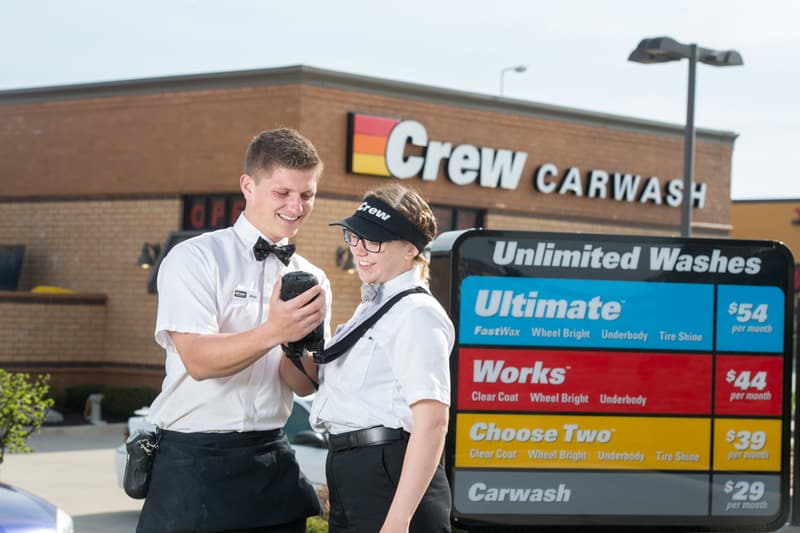 Affordable and clean: this is how Crew Carwash has been known since it was reorganized in 2014. With different product ranges, you can get the car wash that suits your budget. 
How Much Does A Car Wash Cost At Crew Carwash?
A single basic carwash can be bought for $10, while the Ultimate package, which is Crew's full-service car wash,  costs $20. The unlimited plans are recommended for people who prefer washing their car on a regular basis. 
Crew Carwash Unlimited Washes Prices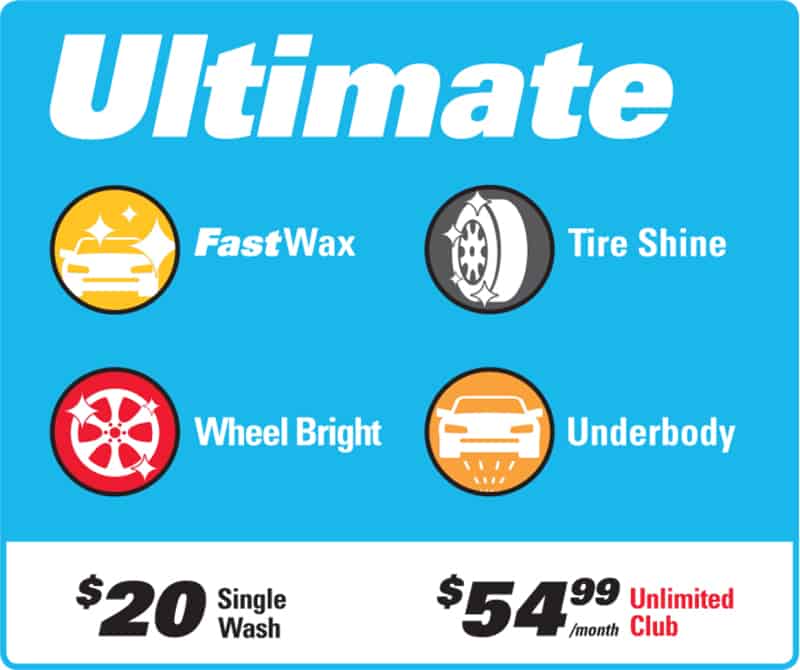 For Crew Carwash unlimited plans, the basic plan starts at $29.99 a month. The ultimate package costs $54.99 monthly. With no contract required, you can opt-out on your unlimited plan any time you want. 
Prices For All Crew Carwash Services: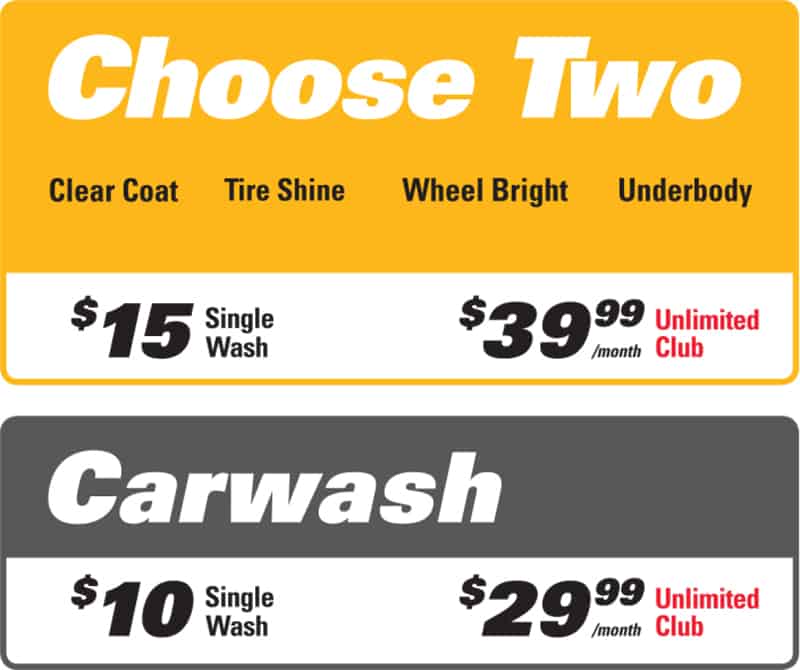 Besides car washes, the company offers more products and services, including wash books and gift cards. There is also a fleet wash option for customers with multiple vehicles. Contact the customer support for your custom pricing. Here's the list of services that have fixed prices for customers with single vehicles. 
Basic Carwash – Crew Carwash's cheapest option for only $10.
Choose Two Carwash – choose among Crew's special services (Clear Coat, Wheel Bright, Tire Shine, and Underbody) for only $15. 
Ultimate Carwash – All special services combined for $20. 
Self Service Options – Use the Wash Bays to get the wash that you want.
Xpress Interior Clean – need some quick interior cleaning? Just add $20 in your wash purchase and you will have Xpress Interior Clean. 
Wash Books – Wash books are tickets with no expiration. Get six washes (4 paid, 2 free) for as low as $40.
E-Washes – pay with your chosen wash without using cash by using E-washes. The price starts at $10.
Crew Gift Cards – gift cards can be used to purchase any wash package, as long as the fund can handle the cost. 
Prices List For All Crew Carwash Services
As of 2021, here are all the services and products provided by Crew Carwash. The availability of services depends on the location. Take note: some locations are self-serve only.
Crew Carwash Early Bird Prices
Unfortunately, Crew Carwash doesn't have an "Early Bird" offerings like Mike's Carwash as of now. We will update the information once the Early Bird pricing becomes available. 
Does Crew Carwash Take Credit Cards? 
The company accepts credit cards on purchases for an unlimited plan, which is charged automatically per month. You can change your credit card information here. For washes not under unlimited plans, using smaller bills are generally favored. 
Crew Carwash Coupons & Promotion Code 
There is no current coupon or promotion code offered by the company. However, you can sign up for the newsletter to get special offers when plans are available. Other options such as e-washes and wash books are already in a discounted form if you want to get more savings in your washes. 
Crew Carwash Hours of Operation Near Me Locations & Corporate Office 
All of Crew Carwash's branches are located in Indiana. Searching for "Crew Carwash near me" will give you this link, which shows all the available locations on Indiana. You can use the table below for a quick call in one of their local branches. 
What Time Does Crew Carwash Open?
Crew Carwash is open from 7 AM to 9 PM. Their DIY car wash facilities are open for 24 hours a week. Other locations might not be open at the moment because of the current health crisis.
How Do I Cancel My Crew Carwash Unlimited? 
You need to call the Crew Carwash customer support to start the process. The customer support assistant will guide you through until the process is completely finished. Take note that your subscription will still be active until the next billing period. This means that you can still wash your car on any Crew Carwash sites even after initiating cancellation. For new vehicles, no cancellation is needed, just give your pass number to any Crew Carwash locations for transferring the membership to your new car. 
As of now, you can't initiate a Crew Carwash unlimited plan cancellation request online. You might have to contact the billings pr customer support team at 866-632-5627. Before calling, make sure that you still have your unlimited tag number, which is located on the vehicle windshield, and is installed upon registration. 
Crew Carwash Reviews: Is Crew Carwash Worth It? 
The company is known for their consistent great services. One review tells how the staff is always smiling and going above and beyond to clean the customer's cars. Services are always good (if not better) no matter how long it has been since you last opt for their services. The staff is also happy for the benefits and pay that they get, as all the efforts are getting recognized via the incentive program. 
Reviews show how customers love the Crew Carwash Customer Service. The staff is very accommodating and goes all the way to make sure the best services are rendered. You can contact Crew's customer service representatives by filling out this form or calling 1-866-632-5627.
Final Thoughts
Crew Carwash is definitely a location to check out if you're planning to take a timeout and have your car cleaned. Consistent clean results at affordable prices make people come back. However, since the company is only operating in Indiana, you might have to look for other brands when you're not living in this state. You can check out other companies such as Moo Moo Car Wash, Mister Car Wash, Autobell Car Wash, The Wash Tub, Brown Bear Car Wash, Delta Sonic Car Wash, Quick Quack Car Wash, Zips Car Wash, and Goo Goo Car Wash.
---
FAQs:
Does Crew Carwash Recycle Water? 
To help in the green revolution, Crew Carwash installed a propriety water reclamation system that allows safe and practical water reuse. It also makes it possible to wash cars without the soapy water getting into the rivers and lakes. 
Is Crew Car Wash Safe?
As long as you follow the vehicle restriction, your car is safe at Crew Carwash. You can find the vehicle restrictions on this page.
Crew Carwash Jobs / Careers Application: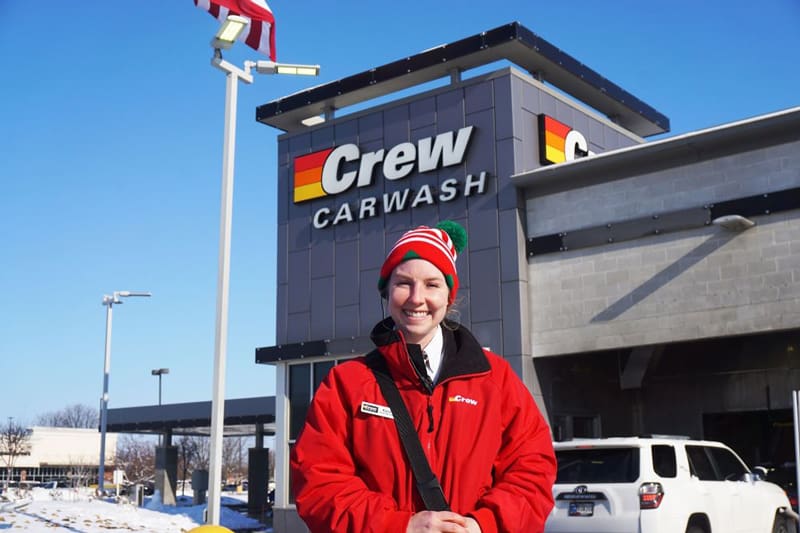 Being a crew member in Crew Carwash is a  decent option for people who like to get experience in the professional world. In addition to training and experience, you can get college tuition assistance, student loan payback program, full-time benefits (full-time associates only), and a flexible schedule. 
How Much Does Crew Carwash Pay Per Hour? 
In addition to the minimum wage, there are incentive program activities for all employees to grab. As of data found on Indeed, the hourly rate for Crew Carwash is $11.09 for staff members and $19.72 for managers in training. Check out the pay ranges here. 
What Age Does Crew Carwash Hire? 
Crew Carwash only accepts applicants that are 16 years old or older. This is based on the Indiana State labor laws. You can submit your Crew Carwash application on this page.
Please follow and like us: